Thursday November 1 8:30pm
Brooklyn, NY's ROOFTOP FILMS
MARK ROSENBERG IN PERSON
In the last scene of the film, our heroine races into the stairwell. The final conflict looms, and she has two options. She chooses the roof. Why? Because the roof represents her last refuge. And because rooftops are inherently cinematic. ROOFTOP FILMS presents short films which seek out a new perspective by filmmakers who claw their way to the roof to show us something new, something beautiful, something true about the world around us which we always knew was there but have never been able to see. Join us as we welcome MARK ROSENBERG, filmmaker and co-director of ROOFTOP FILMS, a volunteer-run non-profit organization that promotes low-budget filmmaking in New York City by lending equipment and services, connecting people with projects, and hosting a short film series throughout the summer. Among the shorts to be presented tonight are: COLLATERAL DAMAGE, by Ben Reisman, who took his camera to the World Trade Center on September 11, 2001 and here - quietly, eerily - shows us first hand what it was like for him and others to have been at ground zero; BOULEVARD OF BROKEN SYNC, local Vancouver videomaker Winston Xin's short about a lover's sweet revenge inspiring broken video sync as a metaphor for emotional breakdown; REZELSCHEFT, an absurdist faux preview by San Francisco comedy troupe KILLING MY LOBSTER; PIE FIGHT '69, Christian Bruno and Sam Green's modern commentary on this re-discovered footage provides a melancholy insight into social and artistic process and history; FIVE FEET HIGH AND RISING, Peter Sollet's Neo-Realist look at young love in the Hispanic projects - summer in New York; THE MAN WHO SHOUTED TERESA, Mark Elijah Rosenberg's adaption of Italo Calvino's magical realism story about a community coming together; POINT STREET BRIDGE, Perry Hallinan's homage to the construction of a draw bridge and a group of people who build a floating sculpture out of an abandoned car. PLUS MANY OTHERS!



Friday, Saturday & Sunday November 2/3/4 8pm
THE BLINDING LIGHT!! CINEMA AND MWAR PRESENT
THE ALARM! FILM FESTIVAL
ALARM! is a new publication of the mobilization against war and racism, deepening the analysis of Vancouverites around the underlying issues of the September 11 attack and the US war on terrorism. The ALARM! FILM FESTIVAL presents a powerful mix of documentary features and shorts as well as speakers in an effort to raise awareness as well as funding for future issues of ALARM! Don't miss these three crucial nights!
Friday November 2 8pm >AFGHANISTAN NIGHT This evening features films and speakers on Afghanistan. Titles are yet to be confirmed (see below).
Saturday November 3 8pm >BORDERS NIGHT Featuring UPROOTED: REFUGEES OF THE GLOBAL ECONOMY produced by The National Network for Immigrant and Refugee Rights, based in the USA. Plus NEW WORLD BORDER and speakers.
Sunday November 4 8pm >MILITARISM NIGHT Include will be the feature documentary HIDDEN WARS OF DESERT STORM plus shorts and speakers. Visit the ALARM! website for a complete line-up and film descriptions at www.tao.ca/~mayworks/911 OR call Mobilization Against War and Racism at 604.682.3269 ext. 6903.

Tuesday November 6 8:30pm
IMPROVISION PRESENTS DICKING AROUND!
Improvision presents DICKING AROUND!, a live dubbing of a classic 1940's Dick Tracy film. The stars of CBC's 11th Hour, the Comedy Network's Slightly Bent and Suckerpunch bring their award winning improv comedy skills to the Blinding Light to tear film noir a new arse. At least two surprises are guaranteed (meeting the average Canadian's daily requirement of surprises - source: Canadian Food and Surprise Guide). So come join Ian Boothby, Diana Frances, Ray Gurrie and Pearce Visser for an evening of black and white blood, babes and blasphemy. The Improvisers are also available for light yard work.

Wednesday November 7 8:30pm
BY REQUEST: GUY DEBORD'S SOCIETY OF THE SPECTACLE
After many requests following the events of September 11th, Debord's incisive and unrelenting film SOCIETY OF THE SPECTACLE seems more relevant now than ever as it explores the very essence of our culture's sleep-walking complicity in maintaining an ignorance of the blood-soaked impact of commodity culture, while remaining in apolitical awe of its spectacle. SOCIETY OF THE SPECTACLE is an intense and densely packed montage assembled out of "detourned" images from feature films, pornography, commercials and news footage. "Few groups have had as profound an impact on French culture as the Situationist Internationale with its unparalleled interrogation of political and cultural relations. While the writing of leading Situationist Guy Debord has become the cornerstone of postmodernism, his paintings, artist books, and films remain unknown." (Keith Sanborn, translator/subtitles) "Debord's analysis of a society suspended inside the free space of the commodity infiltrates every frame." (Steve Seid, PFA)

Thursday November 8 8:30pm
BYO8: BRING YOUR OWN FILM
Tonight we look forward to a rush of new moving images from the heart and mind of YOU! Bring down your Super 8, Regular 8, 16mm and VHS tapes for an evening of discovery: found films, obscure clips, video mini-epics and more! Remember, 10 minutes max (excerpts accepted), first come first serve, and only $3 to get in if you're carrying (plus $3 annual membership).
Friday November 9 8:30pm
R ROOM MEDIA SUBVERSION
R ROOM is a multimedia collective determined to reorganize the media it receives and rebroadcast it in more interesting forms. R recipe is to borrow the images that bombard us daily; combine film, video, graphics and a dash of social commentary, then add music to taste. The original Corporate Version plus Subversion equals R version....... R ROOM is back with new material following their June 1st Blinding Light show. In July R ROOM were invited to the RGB Festival in New York City where they debuted their new video CCNN - a humorous look at the corporate nature of television news. The event was put together by the good people at Complacent.org, and featured Disney Enemy #1, the performance artist Reverend Billy and his "Stop Shopping Gospel Choir". This evening's show includes the 12 minute CCNN, as well as a short video detailing R Room's trip to New York and the events surrounding the RGB Festival. Other videos to be shown include: WHY IS THIS COMMERCIAL - R Room's video for Negativland's track from the Dispepsi album;"Liquid Candy" - A 5 minute anti-pop video targeting the softdrink industry. R Room takes aim at Corporate Cola. UNHAPPY MEAL - A 6.5 minute assault on McDonalds, featuring content created entirely by R Room and set to Patootihed's twisted beats. All these videos and more! Check out the R Room website at www.rroom.org.

Saturday November 10 8:30pm
Canadian Premiere: BOOM - THE SOUND OF EVICTION
With WHISPERED MEDIA filmmakers Francine Cavanaugh, A. Mark Liiv, and Adams Wood in person!
Enthralled by dot-com fever and dreams of instant wealth, the nation largely ignored the disastrous housing crunch that gripped San Francisco during the internet years. Now the bubble has popped and most of the startups are gone, but the tidal wave of gentrification that came with the new industry has changed the city and its political landscape forever. This sprawling and ambitious documentary takes stock of the dot-com boom and bust and asks the question-Who benefited? An informative and unconventional documentary, the movie delves into the ironies and contradictions of the "New Economy" and delivers a potent blend of radical politics, impressionistic meditations, and moving personal stories. We move easily between dot-com party crashing at one end of the economic spectrum and painful moments with families pushed out of their homes at the other. Featured are interviews with dot-com workers, real estate developers, and mayor Willie Brown as well as those who challenged the new economic order with community organizing, direct action, and progressive movement building. (100 min video)

Sunday November 11 8:30pm
BY REQUEST: GUY MADDIN'S TALES FROM THE GIMLI HOSPITAL
"Irresistible stuff...audacious filmmaking." - Film Comment
Guy Maddin's outrageous and bizarre first feature is one of the true cult hits of the '80s midnight movie circuit. Reckless envy, unconsummated passions, and necrophilia set the tone for the surreal tales shared by two patients confined together during a smallpox epidemic in turn of the century Gimli, Manitoba. "Setting out to be willfully childish, Maddin shot the movie in the vernacular spoken by film in the year of its own glorious second childhood-namely 1929. He mixes b&w with toned sequences, mime with talking, locked-down expositional tableaux with bumpily fluid musical numbers. His moral sensibility is strictly precode. His mono soundtrack drones and hums out a comfy wool blanket of ambience-the viewer can sense his own mother tucking him in beneath a sweetly decaying quilt. The director eschews sharp focus in favour of oneiric portraiture and dismisses the literal-mindedness of continuity as inimical to dreaming. He seems always careful to throw the picture together carelessly, with the delirious glee of a finger-painting preschooler. Gimli's story takes the director back to his own ethnic prehistory in a 19th-century Icelandic settlement in rural Canada, where an epidemic (cleverly unnamed to invite comparison with AIDS) has paved the pioneers with unsightly fissures and landed them all in a makeshift hospice shared with invaluable heat-generating farm animals. Here, in the titular hospital, dark but bouncy tales of death and jealousy exchanged between two men eventually pit the endomorphic raconteur Gunnar against the necrophiliac Einar in a buttock-shredding climax that is probably the most autobiographical moment of Maddin's career." Village Voice (1988, 72 mins 16mm)

Tuesday, Wednesday & Thursday November 13/14/15 8:30pm
Johan Grimonprez's DIAL H-I-S-T-O-R-Y +BIT PLANE
Through a blending of archival footage and personal home movie imagery DIAL H-I-S-T-O-R-Y investigates the media politics of contemporary catastrophe culture. Inspired by two Don DeLillo novels - White Noise and Mao II, and savouring the writer's motto 'Home is a failed idea', director Johan Grimonprez fully demonstrates how the spectacle of international terrorism and the desire for the ultimate disaster invade all living rooms to threaten our domestic bliss. New York composer musician David Shea wrote the original soundscape to this accelerated journey through the explosive history of this century. "If reality has been supplanted by the image, then violent acts can be seen as the retrieval of a lost authenticity. Johan Grimonprez's gut-wrenching Dial H-I-S-T-O-R-Y shows us one spasmodic attempt at reality recovery, the airline hijacking, and throws in a mini-history of the revolutionary impulse as well. Assembled Frankenstein-fashion from exhumed newsreel footage of hijacking scenes, terrorist attacks and their gruesome aftermaths (and with a little "Do the Hustle" for good measure), Grimonprez's pseudo-documentary follows the flight path of skyjacking, concentrating on the glorious double decade of the 60s and 70s when violent assaults were as predictable as lost luggage. The cavalcade of crises is familiar: Tel Aviv, Athens, Tokyo—each a distant image of some lethal act. The reductive details are often frightening in their simplicity: on one flight hijackers demand birthday cake and champagne for a flight attendant; on another the pilot orders sandwiches for his famished terrorists lest the slaughter begin." SFIFF Also featured tonight is the short by the Bureau of Inverse Technology (BIT), the immersive and brilliant BIT PLANE, a purported documentary describing and demonstrating the Bit Plane, a functioning miniature spy-plane which flies a reconnaissance mission over the glittering heart of Silicon Valley, California, to investigate the progress of the Information Age.


Friday November 16 7:30pm NOTE: ADDED 9:30pm SHOW!!
CANADIAN PREMIERE: LIVE FROM PALESTINE
WITH DIRECTOR Rashid Masharawi IN PERSON
The new feature documentary by prominent Palestinian filmmaker Rashid Masharawi deals with the daily struggle of Palestinian radio broadcasters as they attempt to cover the intifada in the occupied Palestinian territories. Rashid was born in Shati refugee camp in Gaza and now heads the Cinema Production Centre in Ramallah, Palestine. His work includes feature films, shorts and documentaries, and his film "Curfew" was recently shown at the Vancouver Film Festival. Rashid will be in Vancouver for this screening and will be available for a question and answer period after the film. (Co-presented by The Blinding Light!! and Canada Palestine Support Network - CanPalNet)


Saturday November 17 7:30pm
VANCOUVER PREMIERE:
MAI MASRI'S FRONTIERS OF DREAMS AND FEARS
WITH JAYCE SALLOUM IN PERSON WITH HIS WORK IN PROGRESS
Jayce Salloum, a Lebanese-Canadian filmmaker, will talk about his new video on Palestinian refugees in Lebanon. The video is still a work in progress and some rushes from the film will be shown. Jayce has made many insightful videos on the Palestinian and Lebanese struggles, and is also one of the artists involved in the current exhibit at the Museum of Civilization. His presentation will be followed by the Vancouver premiere of Mai Masri's new film, FRONTIERS OF DREAMS AND FEARS. Mai is a leading Palestinian-American filmmaker and she has a significant body of work, including a documentary on Hanan Ashrawi and Children of Shatila. Her new film follows the lives of two young Palestinian women, one in Shatila refugee camp in Lebanon and the other in Dheisheh camp near Bethlehem, and has already been well received at the Montreal Film Festival. For further information, please visit www.canpalnet.ca


Sunday November 18 8:30pm
GUY MADDIN'S ARCHANGEL
"Brimming with bright idiosyncratic wit." - Daily News
ARCHANGEL is the story of amnesiac lovers skirting the northern frontiers of World War 1, and its release brought Maddin the U.S. National Society of Film Critics' prize for Best Experimental Film of the Year. Literally a film like no other, this weird, wild and extraordinary photoplay is both melodrama and deadpan parody. With striking black and white cinematography and stylized set design, Maddin tells a tale of obsessive love in the arctic Russian town of Archangel, where Bolsheviks, White Russians and German Huns converge during World War I. "In Archangel (1990), all of Maddin's backward-gazing characters grope about in the murk of their memories in a sad attempt to regain loves and comforts lost. Archangel is a full-blown amnesia melodrama set deep in the confused winter immediately following the Great War-the last war designed exclusively for the pleasure of children. (The uniforms worn in battle made all the combatants look like scaled-up toy soldiers, and Maddin himself described the movie as a "Goya painting etched upon a child's windowpane in frost.") Another part-talkie, this is Maddin's most delirious feature; there is a narrative, but it lies buried somewhere beneath a fluffy snowfall of forgetfulness. All the characters, being amnesiacs, have forgotten the war is over, and between naps continue to fight. They fight painful facts, they fight the love gods, they fight through thick mists of Vaseline. (The Archangel camera crew went through a whole keg of this unguent.) Soldier and viewer alike fight confusion, unsuccessfully. This is said to be the director's favourite among his movies." -Village Voice (1991, 90 mins 16mm)

Tuesday November 20 8:30pm
The Blinding Light and Joint Effort Present
TO HEAL THE SPIRIT and GETTING OUT
On this, the anniversary of the AIM occupation of Alcatraz (1969) The Blinding Light and Joint Effort present a double bill on the struggle for Native Spirituality inside a Canadian Women's Prison. First Nations people make up a disproportionate percentage of the Canadian prison population. Making up just 3.6% of Canada's total population, in federal prisons which hold prisoners serving sentences of two years or more, First Nations people account for 12% of the male prison population and 17% of the female prison population. In provincial jails, for sentences less than 2 years the figures are even worse, particularly in the prairie provinces where First Nations people make up as much as 72% of the prison population. Screening tonight will be TO HEAL THE SPIRIT, addressing the resistance encountered and strategies taken to continue a genuine exploration of Native Spirituality while incarcerated. Also on the bill is GETTING OUT, the follow-up film that examines life beyond the prison walls and the readjustments and difficulties inherent in this process. Speakers and information tables will be on site! (Co-sponsored by The Blinding Light and Joint Effort - a women in prison support group. Joint Effort operates from an abolitionist perspective and volunteers with the prisoners at Burnaby Correctional Centre for Women. For more information check out the website at www.vcn.bc.ca/august10/jointeffort) \

Thursday - Sunday November 22-25, various times
THE FOURTH ANNUAL VANCOUVER UNDERGROUND FILM FESTIVAL
Four solid days of films and videos selected from over 300 submissions as well as installations, panel discussions, parties and music. Program guides are available the second week of November for FREE at The Blinding Light!! Cinema as well as at select locations around town. Call for programs near you! Click here for program online.

Tuesday November 27 8:30pm
EMILE DE ANTONIO'S
PAINTERS PAINTING
"Finally an intelligent film about how artists think and work. I don't see how it would be possible ever again to teach a course in modern painting without using Painter's Painting".-Henry Geldzahler. In this classic of documentaries on painting, Emile de Antonio, best known for his overtly political documentaries, interviews his close friends like Jasper Johns and Robert Rauschenberg about how traditional painting-in-a-frame becomes abstract modern art, where the limits are conceptual, not formal. "In abstract art," says Art Forum editor Phillip Leider, "the American artist finally had a subject matter not bound to the contradictions of our national psyche." De Antonio was an upper-class Marxist, Harvard classmate of John F. Kennedy, World War II bomber pilot, and failed English professor, who lived a colourful life even before he stumbled headfirst into the New York art world of the 1950s. "Everything I learned about painting, I learned from De," Andy Warhol said about his friend, who famously drank himself unconscious in Warhol's film Drink. De Antonio makes the point that in America, painters are often considered to be merely arbiters of taste, patronized only by the affluent and each other. This film interviews the artists informallly in their studios where they talk about their influences, processes, ambitions and place in time. The artists included: Willem de Kooning, Helen Franthaler, Hans Hoffman, Jasper Johns, Robert Motherwell, Barnett Newman, Kenneth Noland, Jule Olitski, Philip Pavia, Larry Poons, Robert Rauschenberg, Frank Stella, and Andy Warhol. PAINTER'S PAINTING blazes a creative path to the exact issues that set the abstract expressionists alight. These mid-20th-century American painters - explored at the height of their glory in this film are spellbinding, and crucial to understanding the art world of today. Nowhere are their way-out ideas related in a more down-to-earth fashion. (1972, 116 mins, 16mm)



Wednesday November 28 8:30pm
SIDA MON AMOUR
A theatrical Production by France's BATAHOLA DE LA PINTURA
BATAHOLA DE LA PINTURA's SIDA MON AMOUR is an adaption of a French text by Pascale de Duve entitled CARGO VIE which investigates the story of a man suffering from AIDS travelling on a boat across the Atlantic Ocean. Sponsored by French Art Councils as well as locally by the French, Hispanic and Italian studies department at UBC, the French Consulate, l'Alliance Francaise and Sophia Books, this experimental theatre piece is being presented at multiple venues around the city following its launch in Lyon, France. Featuring unconventional stage direction, moving set pieces, and a demanding performative element, the play is a true original. Also featured for this particular performance will be a projected film element. Contact marieberne@hotmail.com for more information!



Thursday November 29 8:30pm
EYE OF NEWT PLAY LIVE TO
JEAN COCTEAU'S BEAUTY AND THE BEAST
EYE OF NEWT are back for another stunning evening of musical accompaniment to film. Combining poetry, fantastical sets, evocative music and haunting cinematography, Jean Cocteau's BEAUTY AND THE BEAST remains faithful in spirit to the 18th-century source, but through his inventions Cocteau made the picture unmistakably his own and provided a model for late filmmakers, such as Minnelli, Bergman, and Truffaut. Casting "The Most Beautiful Man in the World" as the Beast (Jean Marais) who turns into Prince Charming was a real coup de theatre. The candelabra fashioned of living arms and the smoke-breathing caryatids with moving eyes linger long in the mind. Magic talismans - a horse, a glove, a key, enchanted gardens - all abound in the film in satisfying profusion. (93 min 1946 video)

Friday November 30 8:30pm
DEEP BLUE FUNK FILMS PRESENT
JACOB'S LADDER vs WEEN
AKA JACOB'S WEENER
Another synchronicity show from DEEP BLUE FUNK FILMS, presenters of DARK SIDE OF THE RAINBOW. Adrian Lyne's crazed flick - with it's drug-hell, Vietnam afterburners and death-in-a-handbag dementia - is given the Ween treatment. JACOB'S LADDER, a paranoid thriller if there ever was one - is going to be accompanied by the decayed sounds of Gene and Dean. For those that know, you'll understand. What better soundtrack than the pull-you-this-way-and-that drippings of "Chocolate and Cheese"? A psychotic synch of schizophrenic proportions. This is JACOB'S WEENER.

Saturday & Sunday December 1/2 8:30pm
UP AGAINST A STAR:
A Year In The Life Of Digital Revolutionaries
How do you get from actress Philly's no-star, rent-controlled art-cave apartment in the Lower East Side to the glamour world of renowned international film festivals? Is there a place in the world for truly independent film? Who are these digital loudmouths who are winning awards using their consumer-grade video cameras? UP AGAINST A STAR chronicles the recent past in the lives of digital auteur Todd Verow, wunderkind producer Jim Dwyer and their actors, nicknamed the Superstars as an homage to the Warhol legends. How have these rag-tag underground filmmakers survived with no paid PR machine? Without an agent or crew? How DID they do it? All will be revealed as Up Against A Star gives a guided tour of the underground world of digital filmmaking. "We've been flying, walking, ego-tripping and crawling all over the world and we've filmed most of it so you can see what happens when digital video captures the scene. We've entertained and annoyed audiences from Singapore to Iceland to Edmonton. The superstars reveal their secrets, fears and hopes! 48 HOURS videoshoots, Time magazine photoshoots and hair crises across the globe. Featuring TODD VEROW, JIM DWYER, PHILLY, BRENDA VELEZ, ERIC SAPP, BILL DWYER, DEVERY DOLEMAN, LEANNE WHITNEY, BONNIE DICKENSON, COLIN OWENS, SHAWN DURR, AARON FALLS, REBECCA DENISE, and many many more on location in BOSTON, NEW YORK CITY, VANCOUVER, LOCARNO, VIENNA, BERLIN, CHICAGO, LOS ANGELES, BANGOR, PHILADELPHIA, CAPE COD AND BEYOND!" Todd Verow NOTE: don't miss your chance to catch two of Todd's films that started it all early next week: LITTLE SHOTS OF HAPPINESS and SHUCKING THE CURVE (See below).

Tuesday December 4 8:30pm
LITTLE SHOTS OF HAPPINESS
John Cassavetes Creative Artists Award, US International Film Festival
Long Island Film Festival's Grand Jury Prize
From the director of FRISK, this is the first feature film in independent filmmaker Todd Verow's Addiction Trilogy exploring one woman's escape from a life she not only hates— but more appallingly, finds exceedingly dull. "Frances (brilliantly played by Bonnie Dickenson) is a sunny Edie Sedgwick look-alike who by day works as a telemarketer and by night deserts her husband to whore it up, get drunk, steal other women's boyfriends, and rob her rich sister. She's a kind of collapsed gamin who moves to the mindless rhythm of the industrial music that throbs relentlessly on the soundtrack. A scene where Frances becomes the hated guest/sex object for a couple she doesn't know comes off like a sample from Paul Morrisey's Trash, but most of Little Shots of Happiness moves to its own disturbing, original rhythms." -Gary Morris San Francisco WEEKLY "Todd Verow's frenetic and corrosively low-rent visions of American verities - raw sex and shredded emotion - portray glamour as a kind of drug-induced condition." Chuck Stephens, San Francisco Bay Guardian "Bonnie Dickenson's performance is what legends are made of." -Detour Magazine "...mixing Fassbinder and Warhol to a techno beat, Verow's film has wit, raw energy, and a tremendously endearing performance by Bonnie Dickenson." -FILMMAKER MAGAZINE "...a new Breathless." - Bruce Benderson, author of USER

Wednesday December 5 8:30pm
SHUCKING THE CURVE
"Hilarious!" - Paper Magazine
"Wow! Four Stars!" - Film Threat
"Wicked, wild and wacky..." -Village Voice
NO DANCE '99 Winner Best Feature/Best Actress The latest from Digital Video man-of-the-hour Todd Verow, Shucking the Curve is the second in his "Addiction Trilogy" (Of which Little Shots of Happiness was the first installment.) Starry-eyed, small town bankteller Suzanne Fountain (played by Bonnie Dickenson) sells her powder blue compact and moves to New York City, plummeting headlong into a twisted mid-NYC-summer nights' wonderland of hipster wannabe's, midnight rhinestone cowboys, ex-cheerleader shucksters, bisexual gigolos and dangerous, carrot be-wigged club kids. After a frantic apartment search which includes foot massages, Roswellian abduction art, free cocaine, vegetables and some very large urban koi, she settles into her new "life" in a Lower East Side art-cave with Titania, self-styled "Queen of the Faeries". Paced at a crystal meth r.p.m. and populated with familiar underground faces, Shucking the Curve is crazy-glued together by wild improvisation, a soundtrack of ambient glitter, electronica riffs, Japanese pop and primal pretense art-noize and another award-winning Bonnie D. performance which begs and pleads the question: "Do people move to New York City or does New York move into people?" "Todd Verow's frenetic and corrosively low-rent visions of American verities - raw sex and shredded emotion - portray glamour as a kind of drug-induced condition." Chuck Stephens, SF BAY GUARDIAN



Thursday December 6 8:30pm
BYO8: BRING YOUR OWN FILM
This month's instalment of another auto-curated evening of revelations, surprises and bad taste asks YOU to bring your film or video down here so we can all have a look at it and quietly judge you. But don't worry, you get to judge too. We accept Super 8, Regular 8 and 16mm film as well as VHS video. Keep it under 10 minutes (excerpts accepted), and it's only $3 to get in if you bring a film (plus membership).
Friday to Wednesday December 7-12 (no show Monday) 8:30pm
CANADIAN PREMIERE:
MONTEITH MCCOLLUM'S
HYBRID
GRAND JURY PRIZE, SLAMDANCE FILM FESTIVAL
With a blend of poetic cinematography, animation, and an evocative soundtrack, Hybrid is a film about a 100-year old Iowa farmer, his troubled relations with his family and his life-long obsession with hybrid seed corn. Milford Beeghly began his seed company in the 1930s, experimenting with hybrids in secret, peddling his seed to skeptical farmers at a time when intervening in the natural process was seen by some as an oddity, hoax, and sin. The filmmaker, Milford's grandson, reveals a family's resentment towards the stoic, unemotional man who doesn't know how to communicate with his family, but finds companionship in the whispers of rustling cornfields. Humorously playing on a theme of sexuality, the film describes the promiscuity of corn in comparison to other crops. It regales with the mating ritual of corn and the evil inbreeding and pimping for pollen which man partakes to create a hybrid. The film captures Milford's changes over a six-year period, revealing his philosophies and eccentricities, his remarriage at 94, and his battle with pneumonia at 99. It was some 70 years ago that Milford Beeghly first began experimenting with hybridization, in the birthplace of today's biotechnological revolution in agriculture. -CUFF "Like Errol Morris, McCollum is obsessed with his seemingly innocuous subject, and his intense interest invests HYBRID with a quirky reverence." (NOW) (16mm 93 mins) Note: Hilariously, the Ontario Film Review Board saw fit to stamp this film with a PG rating, claiming "mild sexual (plant) innuendo" and "psychological impact may cause adverse effects in children."!
Thursday-Sunday December 13-16 8:30pm
DAVID FINCH AND MAUREEN MAROVITCH'S
WHEN TWO WON'T DO
Don't miss this special four night screening of the Vancouver International Film Festival Favourite WHEN TWO WON'T DO. Maureen Marovitch believes in polyamory, the philosophy of simultaneously loving more than one person. David Finch, her live-in boyfriend, does not-and he is far from silent about his wish that Maureen break up with her two other lovers and settle down with him. What makes this relationship even more unique is the extremely unconventional way they choose to explore their conflict-by making a documentary about it. They set out across North America, looking for examples of successful polyamorous lifestyles-including swingers, pagans, a group family, and the attendees of the Loving More Polyamory Convention. These travels establish the wider context for the film, but it is when they turn the camera on themselves, exposing their private lives and the effects of polyamory on their psychological and sexual well-being, that the film finds its emotional core. The most interesting part of their journey happens whenever they return home-to their shared house in Montreal, where David sleeps in another bed when Maureen's lovers come to stay. As Maureen's experiments pull her into a relationship with a married man-and his emotionally unstable wife-a devastating crisis forces all involved to confront the difficult reality of their lifestyle. This intensely personal style of documentary filmmaking is a minefield of potential ethical dilemmas. But Marovitch and Finch do a remarkable job of negotiating the moral quicksand without compromising their integrity, even in the most shocking of circumstances. This fascinating documentary is an illuminating, emotionally charged, sometimes jaw-dropping look at one very complex couple's transcontinental hunt for that most elusive of preys-a genuinely happy non-monogamous relationship. VIFF (2001, 91 mins video)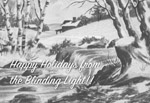 WE ARE CLOSED FOR THE HOLIDAYS
AND A WELL-DESERVED BREAK
DEC 17, 2001 - JAN 10, 2002
(YOU CAN ONLY ASK SO MUCH FROM
THIS CRACK TEAM OF VOLUNTEERS).
SEE YOU IN JANUARY!


Friday, Saturday & Sunday January 11/12/13 8:30pm
Canadian Premiere:
Ben Wolfinsohn's FRIENDS FOREVER
" * * * * " (four stars)- Film Threat
FRIENDS FOREVER documents drummer/vocalist Nate and his partner, bassist/keyboardist Josh. The duo travel the country playing gigs directly out of their van while parked at the curb, using a bubble maker, smoke machine, dangerous fireworks and a light show to compliment their experimental tunes. Refusing to play traditional musical venues, they prefer to risk incarceration by disrupting the neighbourhoods they invade. Stunned audiences either sit mesmerized or get out of the way of their spontaneous concerts. Filmmaker Ben Wolfinsohn follows the duo on their tour across America and his camera captures every key moment from their hilarious gigs, to the personal conflicts, to their scary groupies, and even their college radio appearances. While it is obvious that the band are enjoying the fact that they are being documented, the filmmaker's refreshing style and ability to observe and "let them hang themselves" makes the film that much more enjoyable. Akin to a THIS IS SPINAL TAP for the indie-rock crowd, FRIENDS FOREVER makes a bigger impact simply because this is all for real! "A jaw-dropping display of vehicular pyrotechnics and music...rocking hard, and lighting shit ablaze." (Sound Unseen)



Tuesday & Wednesday January 15/16 8:30pm
SMALL GAUGE WONDER
Well over three decades after its introduction as a home movie format, Super 8 continues to thrive. In this wide-ranging and intensive evening of small gauge films, Super 8 is explored as physical material, political tool, spontaneous fluid recording device and more. Whether working exclusively in this slim celluloid format or using it as an integral starting point, these makers demonstrate that Super 8 is about flexibility, freedom, accessibility and wonder. Here's the proof, and the inspiration.
Among the films screening tonight: GIRL FROM MOUSH, in which filmmaker Garinee Torrosian applies Super 8 frames onto 16mm stock and refilms them to create a profound and haunting poem to Armenia which reflects on culture, gender, and memory. Brad Poulsen's UNSEEN 1: ELECTRICITY renders the mundane sublime in this mesmerizing hand-processed and solarized film exploring the invisible force of electricity in a modern city; Heather Frise & Shawn Chapelle's OBJECTS ARE LARGER THAN THEY APPEAR is a collaboration of saturated colour Super 8 from a road trip to Mexico creatively cut into as a thoughtful diary voice-over considers travel companions and leaving home in order to find it again; David Miklos' BLUE TONE approaches hand-processing with a blue hue to transform this vivid and visually dramatic film into a moving cyanotype to find the beauty and wonder of the abstract in the everyday; Velveeta Crisp's now infamous TOILET MOUTH explores the exotic flavours of bathroom fixtures; and Lulu Keating's LADIES IN WAITING is a gorgeous blending of brilliant Kodachrome and rich hand processed black and white Super 8 footage studying the lives of a group of diverse and intriguing women who seek partners in life but struggle to find and keep the right ones. PLUS: Ride the top of a freight train across Canada in Steven Topping's READING CANADA BACKWARDS, explore the victim in Kika Thorne's FASHION, imagine home when you're not there with Nelson Henricks' TIME PASSES, consider the progress of life in John Price's NINE +20, dance through the city in Christopher Chong's NOTEBOOK ON LIGHTNING BOLTS AND TURNTABLES, laugh out loud with Robert Kennedy's HI. I'M STEVE, break free with wrik mead's CLOSET CASE, and imagine in brand new ways with John Kneller's SPECK. (This program was originally curated by Alex MacKenzie for the ANTI-MATTER FILM AND VIDEO FESTIVAL in Victoria.)

Thursday January 17 8:30pm
BYO8: BRING YOUR OWN FILM
Last chance in this calendar for you to show your wares - be they video (VHS), 16mm, Super or Regular 8 film, we can show them! Did you find a training video at the thrift store? Come and share the joy. Going through your grandfather's trunk and you found a reel of ancient film? We'll take good care of it and show you your gene pool too. Remember, 10 minutes max (excerpts accepted) and only $3 to get in if you bring something to show ($3 membership required as per usual).

Friday January 18 8:30pm
DARK TICKLE:
AN EVENING INSIDE THE BLACK HOLE WITH SOME EYELICKERS
THE EYELICKERS and SINOIA CAVES produce combined gravitational tidal forces to manhandle your tiny particles within dangerously close proximity to Walt Disney's The Black Hole! The resulting oscillations will grow to infinity, making all stable orbits impossible. Regardless of powerful velocity engines, all particles are doomed to fall into the hole: benevolent spacetime falls through strongly curved radius. Netresult: DARK TICKLE: AN EVENING INSIDE THE BLACK HOLE WITH SOME EYELICKERS

Saturday January 19 8:30pm
Catscam presents CLEAN UP CODE
Don't miss the group that claims to "give music credibility as an artistic genre". Defying any attempt at categorization, CATSCAM is comprised of three experimental audio-visual artists scoring an imaginary mutant-robot horror film. Spookidelic visuals accompany electro-organic pulsations, taunting the senses and inducing an epileptic fit of audiophilia. An usual treat! One night only.

Sunday January 20 8:30pm
The Blinding Light and Joint Effort Present
TRIAL BY MEDIA:THE VIDEOTAPE
Tonight is the anniversary of the arrest of The Vancouver Five, or The Squamish Five as they became known. "On January 20, 1983, near Squamish, B.C. the Five were returning to Vancouver from target practice in the mountains. The police, dressed as Department of Highway workers, stopped their van and in a violent attack pulled them out of the van and arrested them at gunpoint. They were charged with 12 to 15 counts, including Red Hot Video, Cheekeye-Dunsmuir, conspiracy to rob a Brink's truck, as well as conspiracy to commit more bombings. Immediately after the arrests, the police had a news conference which displayed the extensive weaponry which they claimed had been seized from the Five. This was the beginning of what came to be called, "Trial by Media" as the police and prosecution used the media to try to contaminate public opinion not only against the Five, but against the anarchist movement in general." (Jim Campbell) Tonight we present TRIAL BY MEDIA: THE VIDEOTAPE, produced by BC Journalists for Accuracy in Media and Winner of the 1983 Garbage Can School of Journalism Award. It is a tell-all CBC, BCTV, CKVU compilation of TV Trash on the arrest of the five and features interviews with the five. Speakers and information tables will be on site! (Co-sponsored by The Blinding Light and Joint Effort - a women in prison support group. Joint Effort operates from an abolitionist perspective and volunteer with the prisoners at Burnaby Correctional Centre for Women. For more information check out the website at www.vcn.bc.ca/august10/jointeffort)


Tuesday January 22 8:30pm
SUPERSTAR: THE KAREN CARPENTER STORY
PLUS: A HISTORY OF BARBIE COMMERCIALS THROUGH THE AGES
You keep asking to see it again, so here it is! This long-banned underground classic from the director of POISON, SAFE AND VELVET GOLDMINE, Todd Hayne's SUPERSTAR chronicles Karen Carpenter's rise to stardom and untimely death from a heart attack due to anorexia and bulimia. Using Barbie dolls as characters, Karen's face is sanded and puttied to portray her weight loss, while faces of family members are similarly distorted to visualize the sinister family structure playing into Karen's illness. Video footage played through television backgrounds, and brilliant collisions of documentary and fiction, lend to the layered meanings of this film. Haynes juxtaposes this American dream gone wrong with the bubble gum soundtrack of the Carpenter's pop music. While this sing-along audio resonates in the viewer's mind, it ultimately led to litigation by the Carpenter family, preventing this film from ever being released. (Hence the mediocre quality dub which you see here - an improvement over the last one we showed - viewed with a certain charm and respect rarely given to degraded video.) Using the life of a popular icon to discuss a multitude of issues (the problem of star making in the United States, the political context of artistic endeavors, the family as a structure of tyranny, and the complexity of internalization from the female who is acting out) SUPERSTAR manages to be heart wrenching, touching and funny. The film will be preceded by early commercials from the sixties and seventies for Mattel's Barbie doll - dig those styles!

Wednesday January 23 8:30pm
BEAUTY & THE GROTESQUE
Curated by Kim Dawn & Scott Russell
The "grotesque" body is one which, according to Bakhtin, unashamedly "fecundates and is fecundated, that gives birth and is born, devours and is devoured, drinks, defecates, is sick and dying." The grotesque in contemporary spectacular society might be beyond representation since images of excess are deployed to sell products, to boost ratings. Our desires have been commodified and our public free spaces - the carnival squares - are now public parks that are patrolled by police. Where is the Carnival Square in the 21st Century? Is video the Carnival Square for today as Vaudeville was over half a century ago? Did video (TV) need to reach a point of formalization, a point of extreme convention before it could be this arena of excess (a point in which the excesses were clearly scripted)? Does it attain the level of base familiarity between viewers and performers? Where do our poised countenances dissolve into a disruption of power? BEAUTY & THE GROTESQUE meditates on the body becoming the site of profanation of sanctified ideas, ambivalent laughter, blasphemy, degradation of everything considered important. The grotesque permits things both vile and pristine, beautiful and deformed. All of these seeming opposites are united in one identity (perhaps an identity that cannot exist privately, but can only be represented socially). Baseness, in all senses of the word (humour, class), the animalistic and degradation are championed with obvious disregard for traditional morality and values. The video works included in BEAUTY & THE GROTESQUE privilege genitals, buttocks & organs over faces and heads. Crooked noses, potbellies, business suits with farting assholes, smeared make-up & pustules are more visible than airbrushed images of models. These videos fashion theatres from the materiality of 'open' bodies.

Thursday January 24 8:30pm
EYE OF NEWT COLLECTIVE PLAY LIVE TO
JAN SVANKMAJER'S CONSPIRATORS OF PLEASURE
Don't miss the Blinding Light's hugely talented and favoured house-band EYE OF NEWT as they play live to this bizarre and daring feature from Jan Svankmajer. Although largely a live-action film, Jan Svankmajer's strange, otherworldly depiction of the bizarre, solitary sexual activities of six people is very much in the spirit of his surreal, stop-motion animated films Alice and Faust. Forgoing any explanation by dialogue, Svankmajer allows his distinctive visual artistry to convey the odd, sometimes nightmarish fantasy world his characters occupy. "To describe Conspirators of Pleasure as a live-action cartoon is a little like calling James Joyce's Ulysses a salty Irish yarn" (Stephen Holden, New York Times). A Czech Republic, Switzerland, Great Britain co-production. (85 mins, video)

Friday & Saturday January 25/26 8:30pm
BACK BY POPULAR DEMAND:
DEEP BLUE FUNK FILMS PRESENTS
RADIOHEAD VS THE MATRIX
From the folks who brought you DARK SIDE OF THE RAINBOW and JACOB'S WEENER comes the return engagement of this melding of music and image in the form of RADIOHEAD and THE MATRIX. This evening's strategy is to synchronize the entire library of RADIOHEAD recordings to start together (on separate CD players) at the beginning of the thoroughly entertaining, visually engrossing and paranoia-inducing THE MATRIX. As the film plays, the music will be drawn in and out of the mix as each album unfolds simultaneously, magically blending with the images in serendipitous synchronizations. Come with an open mind and a willingness to let it all go....

Sunday January 27 8:30pm
ART SCHOOL CONFIDENTIAL
Curated by MEESOO LEE
ART SCHOOL CONFIDENTIAL aims to expose the peculiar form of oppression which is art education. Almost everyone has had a traumatic experience with being "taught" art, whether it is in art school, film school, grad school, dance class, cub scouts... or simply dealing with crushing student loans. Is art school an oxymoron...? Art school survivors will present new work addressing the theme of art and institutions and re-present old work from a post-institution perspective. Expect videos, artwork, show and tell, performance and more!

Tuesday & Wednesday January 29/30 8:30pm
REN… VI…NET'S CAN DIALECTICS BREAK BRICKS?
"Imagine a kung fu flick in which the martial artists spout Situationist aphorisms about conquering alienation while decadent bureaucrats ply the ironies of a stalled revolution. This is what you'll encounter in RenÈ ViÈnet's outrageous refashioning of a Chinese fisticuff film. An influential Situationist, ViÈnet stripped the soundtrack from a run-of-the-mill Hong Kong export and lathered on his own devastating dialogue. . . . A brilliant, acerbic and riotous critique of the failure of socialism in which the martial artists counter ideological blows with theoretical thrusts from Debord, Reich and others. . . . ViÈnet's target is also the mechanism of cinema and how it serves ideology." -PFA "...its humor comes not so much from its satire of an absurd film genre as from its undermining of the spectacle-spectator relation at the heart of an absurd society. In both its social-critical content and its self-critical form, it presents a striking contrast to the reformist whining and militant ranting that constitute most supposedly radical media. By turning the persuasive power of the medium against itself (characters criticize the plot, their own role in it, and the function of spectacles in general), it constantly counteracts the viewers' tendency to identify with the cinematic action, reminding them that the real adventure - or lack of it - is in their own lives. Ken Knabb (1973, video 90min)

Thursday January 31 TWO SHOWS> 7:30 & 9:30pm
SPECIAL SNEAK PREVIEW BENEFIT: RESIN
NOTE: THESE TWO SNEAK PREVIEW SCREENINGS ARE BENEFIT SHOWS WITH PARTIAL PROCEEDS TO VANCOUVER'S COMPASSION CLUB. SPECIAL TICKET PRICES IN EFFECT: $10 ($3 annual Blinding Light membership required and available at the door).
"A highly accomplished, riveting and despairing critique of the inequities, political opportunism and vengeful nature of the American judicial system," Chicago Reader "RESIN, the 23rd certified Dogma film deals with the injustices of the malicious American legal system, especially as it relates to the so-called "war" on drugs; in this respect, it blows the comparatively childish Traffic right out of the bong water. The story concerns the aimless Zeke (David Alvarado), a genial vagabond and small-scale pot dealer, who through a chain of unfortunate events becomes embroiled in a legal nightmare of Kafkaesque proportions. Accosted by a group of drunken frat boys, he defends himself with a skateboard and is charged with assault. When he's busted for pot for the second time in two months, Zeke finds himself subject to California's controversial "three-strikes" law and faces a life sentence-something he is clearly unable to serve. The Dogma Vow of Chastity, considered by some to be a coy marketing tool, works staggeringly well to ratchet up Resin's level of realism, already well established by the manner in which the filmmakers capture the low-key ambiance of Zeke's Santa Barbara community. Shooting with a digital, handheld camera and using only natural light, this vÈritÈ-style drama builds to a fascinating, tension-filled legal Catch-22-real prosecutors, district attorneys and judges lend an unmistakable authenticity to the fatalistic proceedings. Even more staggering is the understanding that Zeke's story is typical in California, where there are more than 3,000 nonviolent offenders currently serving 25 years to life for minor felonies. Winner of the Audience Award at the Chicago Underground Film Festival, Resin is an utterly compelling indictment of inane injustice." VIFF (Vladamir Gyorski, 2001 87 mins)

Friday February 1 8:30pm
DAVID YONGE PRESENTS
I'M GONNA STEAL YOUR MOVIE!
David Yonge has a conceptually cinematic idea and we at The Blinding Light are going to help out. As we all know, Hollywood films tend to premiere on Fridays. Yonge's plan is to covertly videotape the afternoon screening of a Hollywood Film Premiere and screen it here at the Blinding Light the evening of its official premiere the same day (THIS evening) for FREE (membership required). Is he looking for trouble? You bet he is. In fact, he is going to let everyone know that he is doing this - including the Hollywood cinemas! Raising vital questions about authorship, copyright and Hollywood dollar value, expect a second generation copy of what will be yet another mediocre film churned out of a genuinely blandified entertainment industry. DISCOVER what Dolby Digital Sound feels like once processed through the microphone on David's camera! OBSERVE the wonders of videotaped film! SEE a few heads in the original audience block your view! And walk out knowing you've avoided the box office suckerpunch!

Friday February 1 10:30pm
DAVID YONGE PRESENTS
THE RETURN OF SMELL-O-VISION
PLUS VERY SPECIAL MUSICAL GUESTS
Ever wonder what it would be like to smell the scene which your favourite actor inhabits? Neither have we, but David Yonge has. This is his own spinoff of the highly unsuccessful Hollywood attempt to lure people back into the theatres during the Golden Age slump when some films were designed to synchronize the emission of scents with key scenes. This attempt to add realism typically left audiences gagging and running for the exits. Tonight, Yonge will use past and present popular films, as well as a fan, hotplate and aerosol cans to create smells that will leave you breathless, but hopefully more from laughter then gagging. Included are clips from Cast Away, Backdraft, and The Wizard of Oz, with a grand finale by KISS. Also expect bizarre commercials and outtakes! NOTE: The last show was packed to the rafters so arrive early if you want a seat. This is a tour launch so expect nothing less than over-the-top! WE GUARANTEE THE BEST IN SCENTERTAINMENT!

Saturday February 2 8:30pm
TRIPLE THREAT:
HOT HOT HEAT, THREE INCHES OF BLOOD, THE RED LIGHT STING
Don't miss this triple threat of local music and wild visuals. To kick things off will be three short videos by HOT HOT HEAT's own Steve Bays entitled 12 MINUTES OF FEAR, WHO IS SPIDER and THE ALLEN FARNSWORTH PROJECT. Next up THREE INCHES OF BLOOD perform their bloody heavy metal to a film backdrop of terror, gore and blasphemy presented by 01 MEDIA (13 GHOSTS). Next is crazy art punk that has been from THE RED LIGHT STING projecting to the sound virus. And finally HOT HOT HEAT takes the stage and project 20 minutes of pure fashion while playing their highly praised brand of rock and roll.

Sunday February 3 8:30pm
16mm OBSCURITY:
I WONDER WHO'S KILLING HER NOW? (aka KILL MY WIFE...PLEASE!)
"...a scream; it's one of the funniest movies that I've seen in a long time. How this slipped into obscurity is beyond me, because it has all the makings of an instant cult classic." (The Unknown Movies) Recently unearthed in our dusty archive of 16mm prints, this largely unknown comedy is rumoured to have been co-written by WOODY ALLEN. One thing we know for certain is that screenwriter Mickey Rose (who later wrote the cult college classic STUDENT BODIES) did used to collaborate with Allen. Either way, the humour has all the earmarks of a an early Woody Allen film and centres around the greedy and rather sleazy Oliver (Bob Dishy), who is caught stealing a quarter million dollars from his father-in-law's company. Quickly fired, he is told that the charges will be dropped if he can repay the money within 30 days. No longer in possession of the dough, his solution is to get a life insurance policy for his wife and then have her killed (their relationship is strained to say the least). Things go from bad to worse when "Bobo" the hitman (a Gene Wilder clone if there ever was one) needs to be stopped as the insurance is invalid. The chase begins as the hit is passed on to innumerable sub-hitman and gets Oliver into strange and comedic run-ins with an East Indian symphony conductor, a doctor at a fat farm, a bricklayer, and an Italian soldier... (Dir: Stephen H Stern 85 min. 1976 16mm)
(top)