Wednesday & Thursday November 1/2 8:30pm
CESAPI and THE BLINDING LIGHT!! present
PAYING THE PRICE: THE KILLING OF THE CHILDREN OF IRAQ
Recently featured at the Vancouver International Film Festival, we are pleased to present this special screening in collaboration with The Campaign to End Sanctions Against the People of Iraq (CESAPI) Award-winning journalist and filmmaker John Pilger investigates the effects of sanctions on the people of Iraq and finds that ten years of extraordinary isolation, imposed by the UN and enforced by the US and Britain, have killed more people than the two atomic bombs dropped on Japan. Pilger takes the former Assistant Secretary-General of the United Nations, Denis Halliday, back to the crippled country for the first time since he resigned in protest over the sanctions back in September 1998. Together, they reveal an extraordinary portrait of life in a country with a decaying infrastructure and a population that Pilger says is being held hostage to the compliance of Saddam Hussein. Pilger has brought back disturbing evidence that the "holds" on humanitarian supplies have paralyzed the country and devastated millions of people, many dying from curable diseases because life saving drugs are only available intermittently. He also finds that the breakdown of the clean water system and health facilities are having a tragic effect on young children, contributing to an alarming rise in their mortality rate. Pilger also exposes the suffering caused to the civilian population by the illegal bombing campaign being conducted by US and Britain in the "no-fly zones" in northern and southern Iraq. "A profoundly unsettling programme." The Financial Times "John Pilger goes some way towards showing just how rotten modern foreign policy is, with a typically shocking and thorough investigation." The (London) Independent A representative from CESAPI will be in attendance to introduce the show.

Friday, Saturday & Sunday November 3/4/5 8:30pm
From the archives of SF collector Karl Cohen: ANTIQUE SMUT!: GRANDFATHER'S FAVOURITE MOVIES
MOVIES These X-rated 16mm treasures date from 1915 to about 1950, and were found in the attic of a deceased politician who was known for his puritanical views. A rare collection of outstanding sleazy classics full of silly plots, corny titles, crude acting, absurd positions and shoddy lab work. Nameless stars often wear wigs, grease-paint sideburns and fake mustaches to disguise themselves. This slice of cinema's dirty secret history were once the hit of stag parties for men and even collected by the FBI for private screenings by the "boss". Now they are so campy and dated it is hard to believe they were once thought to be the cutting edge of smut. The Program includes FREE RIDE (c.1915), believed to be the oldest surviving stag film - directed by A. Wise Guy and photographed by Will B Hard(!). Also included: ON THE BEACH (OR GETTING HIS GOAT), BROADWAY INTERLUDE, THE CASTING COUCH, CAREER GIRL: THE ART OF LANDING A JOB and PETE THE TRAMP. PLUS: Hollywood models show off their bodies in static poses, a woman doing a hula who shakes so hard her grass skirt falls off, and more!

Tuesday & Wednesday November 7/8 8:30pm
World Premiere:
Clancy Dennehy's FARM FUTURES + Prairie shorts!
Join us for the premiere of Clancy Dennehy's new documentary on the future of farming in four Manitoban farming families. Both as a tradition and an industry, farming is examined through the stories of real people coping with the struggle to maintain a way of life in the face of adversity and the radically evolving future of agriculture. Technological change, niche markets and family dynamics all play into this three-generation-deep examination of life on the prairies. PLUS: Short prairie-centric works including Mark Street's WINTERWHEAT, a stunning emulsion-manipulating experimental reinterpretation of a found film of the same name and PEOPLE IN BLACK, Robin Schlaht's short documentary on the the Hutterites.

Thursday, Friday & Saturday November 9/10/11 8:30pm
Exclusive Vancouver Theatrical Premiere:
Richard Bell's TWO BROTHERS
Director In Attendance!
After a sell-out show at the Out On Screen Film Festival, we are pleased to present writer/director Richard Bell's emotional and intelligent debut feature TWO BROTHERS. Shot on DV for a paltry $545.00 and smartly acted by an intimate and solid cast, TWO BROTHERS subtly builds its simple and powerful tale in an unpretentious and thoughtful arc. "Vancouver's West End plays back drop to a moving and intensely honest piece about two adult brothers who move in together after their mother's death. The film takes a frank look at how the grown men must deal with the ghosts of their past. The younger (and gay) brother, Riley (Norbert Orlewicz) moves to the West End to live with his older brother Chad (Cody Campbell) after spending years taking care of their ailing mother. The unemployed Chad is emotionally unavailable to Riley and is only concerned with how much money is left in the family estate. Chad's girlfriend, Tobie (the amusing Karen Rae), appropriately steps in and befriends the inexperienced Riley in traditional fag-hag style. With her help, Riley falls for Gavin (Kevin McDonald), and all seems to be well with this newly found family. But in life, "there is a time to laugh and a time to weep," and this is when the story's more emotionally poignant elements surface. Chad's tormented internal world explodes as he's left to try and make sense of his abusive upbringing and the patterns he seems doomed to repeat while Riley's fantastical utopia dissolves from a devastating reality check. TWO BROTHERS is a rare gem that's sure to become a Vancouver favourite." (Out On Screen)

Sunday November 12 Early Show 7:30pm
Idera Presents ETERNAL SEED
With insightful interviews and rare footage from India's agricultural industry, this keenly observed film depicts Indian women's struggles to use traditional farming practices instead of chemically-based agriculture. Comparing the practices of women who consider seeds sacred with multinational companies' use of sterilized hybrids, this evocative analysis celebrates the scientific basis of women's native traditions in a provocative look at the evolving meanings of healthy land use. Awards: Best Environmental Film, Indian National Film Festival; Grand Prize, Okomedia Film Festival (Germany) (Director: Meera Dewan Color, 16mm/Video, 43 minutes 1996) In attendance will be a guest speaker and information from the Eco Cafe, the Basmati Action Group, and Farm Folk City Folk. Call IDERA at 738-8815 for more information.

Tuesday & Wednesday November 14/15 8:30pm
BARBIE: AN UNAUTHORIZED BIOGRAPHY
+ FOXY LADY, WILD CHERRY
In this breezy and truly campy plastic doll road movie director Lara Johnston imagines the life Barbie might have led as a struggling singer in her upstart (and very cheesy) band "Barbie and Les Rockers". Building an innocent relationship with Ken (who is, unbeknownst to her, actually gay) and getting her first gig at a bar called "Studs", Barbie and her band begin their journey across America seeking fame and fortune. Filmed entirely on Super 8 and actually shot in the real all-American locations the band visits, the film owes its humour and pathos in no small part to Todd Haynes' classic Superstar as well as a sprinkling of Paul Verhoeven's Showgirls. From San Francisco all the way to NYC with stopovers in Vegas with Elvis, Nashville with Dolly Parton, and visits with James Dean, Micheal Jackson, Judy Garland and plenty of others camp-friendly glitterati, the film plays upon the price of fame and the loss of innocence. With plenty of unauthorized tunes including songs by the Partridge Family, Donny & Marie, and Hole, the film tracks Barbie's descent into inflated egomania, drugs, alcohol and unhappiness. An imaginatively shot film with an amazing range of guest star appearances by the icons of Hollywood and the music business in the form of thoroughly convincing plastic "action figures", BARBIE: AN UNAUTHORIZED BIOGRAPHY has its tongue firmly planted in cheek with America's most recognized children's toy and all her history, controversy and power as the central focus. PLUS: FOXY LADY, WILD CHERRY, writer/producer Marlene Rodgers and director Ines Buchli's retro-'70s look at adolescent angst and what happens when Leah and her sophisto pal Karen cross the line between flirt and tease , and a memorable chronicle of a father's half-hearted attempt to relate to his 13-year old daughter and her emerging sexuality.

Thursday November 16 8:30pm
BYO8
BYO8 Bring Your Own Film night returns for your monthly instalment of the new, the old, the good, the bad, and the ugly of local image making. Can't afford to rent a cinema out for a screening? Just finished your very own heartbreaking work of staggering genius and want to show the world? Come on down and indulge yourself and your friends. Show up between 8 and 8:30pm to fill out a simple form and you're ready to go. The only rules are: keep it under 10 minutes (excerpts are acceptable), cue your tape (if VHS) and enjoy the show....VHS, 16mm, and Super 8 are the formats we can handle, and it's only $3 to get in if you bring a film (plus $3 annual membership, which you should really have by now).

Friday & Saturday November 17/18 8:30pm
The Wizard of Oz Meets Pink Floyd's Dark Side of the Moon in DARK SIDE OF THE RAINBOW
"So you think you've seen The Wizard of Oz before? Not like this!" Deep Blue Funk Films proudly brings the first in a series of alchemical experiments at the Blinding Light!! Cinema. Prepare yourself for "the mother of all synchs", pitting a soundless WIZARD OF OZ with the soundtrack of PINK FLOYD'S DARK SIDE OF THE MOON: watch as gold transforms into lead! Did Roger Waters intentionally write his album to be the ultimate complement to Dorothy and Toto? Are the incredible thematic and aural synchronizations a beautifully haphazard coincidence or a strange and wonderful plan? You decide. Don't miss this opportunity to see two old favourites in a very new way. Bizarre and uncanny paradoxes abound as we ride the random wave as Burroughs would have understood it. Fans of the film and the record will both love it and never see them the same way again. NOTE: There are a few different versions of this synch-experiment so expect something different and LIVE for each night!

Sunday November 19 8:30pm
EYE OF NEWT COLLECTIVE PLAY LIVE TO
INAUGURATION OF THE PLEASURE DOME
+ 3 EARLY AMERICAN AVANTE-GARDE SHORTS.
Don't miss a very rare opportunity to see these classics of the early american avant-garde back to back with a live soundtrack by The Blinding Light!! Cinema's own kino house band, the Eye Of Newt Collective. Featured are Kenneth Anger's classic underground rarity INAUGURATION OF THE PLEASURE DOME, "A convocation of magicians assume the identity of gods and goddesses in a Dionysian revel. Lord Shiva, the magician awakes, The Scarlet Woman, whore of heaven, smokes a big, fat joint; Astarte of the moon brings the wings of snow; Pan bestows the grapes of Bacchus; Hectate offers the sacred mushroom, yagÈ, wormwood brew. The vintage of Hectate is poured. Pan's cup is poisoned by Lord Shiva. The orgy ensues - a magick masquerade at which Pan is the prize. Lady Kali blesses the rites of the children of light as Lord Shiva invokes the godhead with the formula 'Force and Fire'. Dedicated to the few; and to Aleister Crowley; and the crowned and conquering child." - Kenneth Anger Also featured will be DREAM OF A RAREBIT FIEND (1906) color tints. Directed by Edwin S. Porter for the Edison Company and a fine example of the surrealist elements found in the many trick films made in the first decade of the century. A man eats a rarebit and then has nightmares in which inanimate objects come to life and his bed flies off with him. The story was borrowed from Winsor McCay. THE FALL OF THE HOUSE OF USHER (1928) James Watson and Melville Webber's version of Edgar Allen Poe's tale of stresses atmosphere created by optical distortions, multiple exposures and dramatic lighting. LOT IN SODOM (1933) Watson and Webber's experimental telling of the Old Testament story in terms of homosexuality and the subconscious, featuring multiple superimposition of the same image creating a sensual landscape of human flesh and a choreographic grace to the erotic movements of the Sodomites.

Tuesday & Wednesday November 21/22 8:30pm
THE RETURN OF MR.X: PART 2
After the overwhelmingly positive reaction to our first screening of the home movies of "Mr. X", we are pleased to present a return engagement of these found morsels of personal history featuring favorite camera rolls from the first show plus new reels recently unearthed. Acquired through a donation to our archive and originally found at an estate sale, this series of silent 16mm films are the secret home movies of an unknown Vancouver family. Filmed by the "man" of the family in what appears to be a childless home, the films are decidedly upper class - it was a rare thing to be making home movies on 16mm after all, and given their content it is obvious that these people are of a privileged background. Shot on gorgeous Kodachrome and Black and White and all in immaculate condition (likely only ever viewed once by their original owner like so many home movies), the films date from the '40s through to the '60s and feature Mr. X's travels to Europe, the World's Fair, Parisian topless vaudeville clubs, cruiseship adventures, cross-country car racing and backyard gatherings. As well as being an incredible document of a time in history, these films are also a stunning record of people, places and activities and stand as an awe-inspiring time-capsule. CAN YOU NAME THESE FOLKS? Come on down and see if you know them, we'd love to find out more!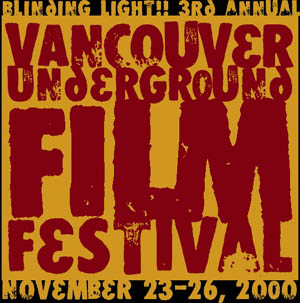 Thursday through Sunday, November 23-26 various showtimes
THE 3RD ANNUAL VANCOUVER UNDERGROUND FILM FESTIVAL
Brand new experimental, radical, cutting edge and over-the-top film and video from across the continent featuring tons of screenings, panel discussions, workshops, live film and video shows, parties and a whole lot more!! Full schedules available at The Blinding Light!! and beyond - watch for them!
CLICK HERE TO GO TO THE VUFF3 WEBSITE!!

Tuesday & Wednesday November 28/29 8:30pm
CANADIAN THEATRICAL PREMIERE:
Gustav Deutsch's FILM IST
Appropriately hot on the tails of the Underground Film Fest comes Austrian photographer, architect, musician and filmmaker Gustav Deutsch's fresh, visually sumptuous and utterly engrossing FILM IST (Film is). Deutsch is best known for his Pocket Cinema concept (1996) where instead of a conventional film screening, he handed out hundreds of toy Super 8 film loop viewers containing original footage shot by the filmmaker for each audience member to view and then pass on. In FILM IST, Deutsch explores the poetry and astounding beauty to be found in the powerful images hidden in the school science film. A bullet passes through an ostrich egg, a bridge undulates wildly, a skeleton speaks the history of film speed. From the absurd to the surreal (be warned of an 'eye' shot to rival Un Chien Andalou), FILM IST is playful and serious in equal measure. Structured in a series of chapters on the properties of cinema - movement and time; light and darkness; an instrument; material; a blink of an eye; a mirror - Deutsch's film has its basis in science, his project akin to the work of Muybridge, Kuleshov and the various perception and response studies of the scientific and educational films he reworks. His command of editing and sublime use of sound set up a series of associations that attest to the durability of cinema and the imagination. "An absolutely awesome meditation on the poetic mystery of our century's science films, an uncanny visual essay of haunting beauty" (Craig Baldwin, Other Cinema)

Thursday November 30 8:30pm
Cineworks Independent Filmmakers Society presents
P4W: PRISON FOR WOMEN
P4W: Prison for Women (1981) is a shattering look at love and isolation in the most desperate of places. The film centres on five women inmates - their stores, their relationships and their lives - inside Canada's only Prison for Women in Kingston, Ontario. The complex fabric of this invisible community is revealed through the use of interviews, monologues and powerful veritÈ sequences. This mix is woven together into a narrative that explores sociological implications in a compassionate way. The filmmakers, Janis Cole and Holly Dale ("Hookers on Davie," "Calling the Shots," "Dangerous Offender," "Blood & Donuts"), fought for four years with government and prison bureaucracy to take their cameras within the walls of an institution that was declared "unfit for bears" by a royal commission in 1938. (Over 60 years later, the prison is still open, although now scheduled to close by the year 2001.) "P4W" defies easy classification. Said John Katz of the Toronto International Film Festival (where the film had its world premiere in 1981), "No ordinary prison film or women's film, "P4W" is a dramatic, very touching portrait of five women you're not likely to forget." Winner, Genie Award, Best Theatrical Documentary. With "Shaggie: Letters from Prison" (1990), by Janis Cole, a 12-minute short film about Marlene Moore, known as Shaggie to her friends. Marlene made headlines in the mid-eighties with a sensational trial that branded her as "Canada's most dangerous female offender." Incarcerated in juvenile facilities at the age of 13, Marlene spent the next 20 years behind bars. In 1988, at the age of 33, she ended her own life at P4W. Made as part of the NFB's "Five Feminist Minutes," "Shaggie: Letters from Prison" was awarded "Best Short Film" at the 1990 Toronto International Film Festival.

Friday December 1 8:30pm
EMULSION DIARIES: David Gatten In Person
We are thrilled to have highly regarded and devout experimentalist David Gatten stopping in on his west cost tour all the way from Ithica, NY to present his subtle and simultaneously jaw-dropping work. Featured will be WHAT THE WATER SAID, a series of films which are the direct result of a series of cameraless collaborations between the filmmaker, the Atlantic Ocean and its underwater inhabitants...lengths of unexposed, undeveloped film were soaked in a crab trap on a South Carolina beach. Both the sound and image in WHAT THE WATER SAID are the result of the ensuing oceanic inscriptions written directly into the emulsion of the film as it was buffeted by the salt water, sand and rocks; as it was chewed and eaten by the crabs, fish and underwater creatures. "The overall feel is amazingly organic and seems to defy the random action of the ocean's weathering - it seems structured, following a predetermined pattern: one almost senses an underwater intelligence in its formation." (Patrick Friel, Chicago Filmmakers) Also screening will be HARDWOOD PROCESS. Grand Prize winner at the Ann Arbor Film Festival as well as the Onion Cty Film Festival HARDWOOD PROCESS is a hand-made, diary film generated from alternative processing techniques, chemical treatments, and optical & contact printing..."a truly astonishing mastery of film, and of such a quality of humanitas as to disarm any sense of 'the overwhelming' which mastery often is causing" (Stan Brakhage) Gatten's recent MOXON'S MECHANICK EXERCISES, OR, THE DOCTRINE OF HANDY-WORKS APPLIED TO THE ART OF PRINTING will also screen - a handmade film with its images generated almost entirely from cellophane tape, and a meditation on the development of the printing press and its role in the spread of Christianity throughout Europe, the relationship between words and images, the poetics of translation, the fine line between the legible and the illegible, and the passage of the soul through the material world.

Saturday & Sunday December 2/3 8:30pm
Canadian Theatrical Premiere:
Russ Forster's TRIBUTARY
From director Russ Forster, whose SO WRONG THEY'RE RIGHT took us into the lives of 8-Track fanatics everywhere, comes TRIBUTARY. Shot during the heyday of the tribute scene in the late 1990s, the film probes the motivations that drive musicians to imitate other musicians and rock out in the process. Following bands in New York, Detroit, Chicago, Seattle, Portland, San Francisco and Los Angeles, TRIBUTARY distills the essence of how these bands can turn homage into a cottage industry, and keep their own identities in the process. Splitting the talent into manageable categories such as "Post-Modern Tribute Bands" and "True Love Tribute Bands", TRIBUTARY explores attitudes ranging from a genuine heartfelt and nostalgic love for a given bands music to a realization on the part of some that most crowds would rather see a mediocre band play familiar songs rather than a great band playing unknown originals. Forster exposes us to the sights, sounds, and attitudes of over two dozen groups, including the indulgent and very funny ACES HIGH (a four piece band of Ace Frehley look-alikes), the in-it-for-the-money stylings of STICKY FINGERS (Rolling Stones) and the cool and committed sounds of HERB (Herb Alpert/Tijuana Brass) and MONGOLOID (Devo). Other areas covered include Hendrix, Sabbath, Mark Bolan, YES, Dead Boys, Rush and many others. While we may begin our tribute trip cynically, we come out of the last sweaty club with a new respect for these hardworking individuals who for the most part maintain a fanatical desire to mark an era and make a public declaration of passion for a band's material.

Tuesday & Wednesday December 5/6 8:30pm
RETURN ENGAGEMENT:
ALAN ZWEIG'S VINYL
A CAMERA. A COLLECTION. AN OBSESSION

"The best Canadian film I saw at Hot Docs" -I. Randoja (NOW) "Brilliant...poignant" -Peter Godard (TORONTO STAR) "Why collect stacks of records when you don't have the time to hear them? Experiencing conflicting emotions over his vinyl habit, kvetchy filmmaker Alan Zweig sets out to interview other disturbed pack rats, touring dingy, record-lined apartments, hoping to find answers. While penetrating the compulsions of an antisocial cadre of quirky hobbyists, Zweig's journey turns into a personal, comic exploration of guilt, obsession, and mouse-trapping. Years in the making, VINYL features a cast of hundreds, including Geoff Pevere, Daniel Richler, Don McKellar, Guy Maddin, and a man who wants to collect every single record ever made." (Hot Docs) Meet a guy who has memorized the playlist of every K-Tel record; a guy with half a million records crowded into a 2-bedroom apartment; a guy who has to rearrange his records every day so he can get to the washroom, a guy who figured out where his musical hero performed for every night during the 40 years he was on the road..... "A self-diagnosed pathological record collector himself, Zweig has made an often painfully personal film that neither celebrates nor mocks the subculture it explores." (Toronto Star) From Alan Zweig, the director of STEALING IMAGES and Greg Klymkiw, the producer of CAREFUL, ARCHANGEL and BUBBLES GALORE. If you've ever owned a record, see this film!

Thursday December 7 8:30pm
RALPH: THIS IS FOR THE NIGHT PEOPLE
Don't miss this special Book Launch evening celebrating the release of Ralph Alfonso's second book, "This Is For The Night People". With his RALPH: COFFEE JAZZ & POETRY being a mainstay of caffeine and poetry addicts the world over and several CDs under his belt as well as (now) two books, Ralph Alfonso has truly become a local icon known for his near fanatical passion for all things beatnik and jazz. Also featured will be a special screening of the Chris Hooper silent noir film, "Vie De Nuit" with live narration and jazz soundtrack by the RALPH group. Starring Sandra Stieir, the film is a fast and loose homage to the cinema of France and Italy in the '50s and '60s. Stieir plays "an enigmatic woman running wild in the night. Her lover is a shadow never in focus and almost always behind the wheel. Tres mysterieux." Combined with Ralph's trademark jazz narration and incredibly tight band, this evening promises to be mellow, cool and very, very beat, man. PLUS: The first Vancouver retrospective of Toronto retro-inspired animator Patrick Jenkins, featuring several collaborations with Ralph Alfonso, including the Vancouver premiere of the film festival favourite. "The Goatee Club". Copies of the new book will available for sale courtesy of Sophia Books, Raincoast Books, and Madrigal Press.

Thursday & Friday December 8/9 8:30pm
CANADIAN THEATRICAL PREMIERE
ZEV ASHER's WHAT ABOUT ME:THE RISE OF THE NIHILIST SPASM BAND
PLUS: OUTTAKES AND RARE FOOTAGE!
"When you eliminate the scale, the key, the repertoire, the category, the traditional rules, and even breaking the rules, what is left?" -Hugh McIntyre, bass They've played together for the last 35 years and are London, Ontario's biggest claim to artistic fame since Guy Lombardo. By day the band members, now in their sixties,work as teachers, artists, and in medicine - some are now retired. But almost every Monday night, the Nihilist Spasm Band, an international phenomenon after successful tours in Japan and the United States, make "noise," a brand of music freely improvised using homemade instruments not tuned to any scale. WHAT ABOUT ME: THE RISE OF THE NIHILIST SPASM BAND, Zev Asher's boisterous documentary, examines the history and the recent recognition of this unique band formed back in 1965. Now, their new and old recordings are distributed on a label in Japan, where they seem to be legends, touring and performing on television variety shows for their rabid fans. WHAT ABOUT ME: THE RISE OF THE NIHILIST SPASM BAND features archival and recent concert footage; interviews with the six remaining original band members, family, former colleagues and students; Thurston Moore, rock icon and member of Sonic Youth; and artist Michael Snow, who calls the band members "trailblazers." An absolutely appealing film filled with unforgettable characters and sly humour, underscored at all times by the motto "want for nothing, believe in nothing." (TIFF) PLUS: Never before seen outtakes, rare moments and concert footage supplied by director Zev Asher for this special screening!

Sunday December 10 8:30pm
EYE OF NEWT PLAY LIVE TO
KING KONG vs GODZILLA
With plans to seriously rock out with this one, don't miss the Eye Of Newt's custom-built soundtrack performed live to a classic monster film! East meets West as the fate of Japan hangs in the balance in this colossal clash between two of the mightiest movie giants of all time: Godzilla and King Kong. Emerging from the iceberg where he was buried in his last adventure, Godzilla heads for Tokyo, while a drug company discovers Kong on a remote South Pacific Island, where he battles a giant octopus. Soon these two terrible titans are on a collision course, as the authorities realize that the only way to defeat them is to pit them against each other in a spectacular showdown on top of Mount Fuji. Marking Godzilla's first appearance in color, this boxoffice blockbuster from the director of the original Godzilla, King of the Monsters established him as the most successful cinematic monster of the 1960s.

Tuesday & Wednesday December 12/13 8:30pm
BACK BY POPULAR DEMAND
LADIES & GENTLEMEN, MR. LEONARD COHEN + COHEN SHORTS!
A rare chance to see this classic portrait of Canada's perfectly blended icon of machismo and romance on original 16mm, LADIES & GENTLEMEN was produced in 1965 as an informal portrait of the MontrÈal poet, novelist, and songwriter. He is seen reading his poetry to a rapt audience, as well as with his family and friends and alone. Directed by Donald Brittain & Don Owen, the film is both fawning and quietly non-judgmental - and an incredible historical look back at a man who has influenced and charmed so many of us. Also featured will be IN SHORT: LEONARD COHEN, a compilation of short films influenced and/or featuring the man and his music. I'M YOUR MAN is an irreverent animated film playing on the conventions and clichÈs of romance and set to the Leonard Cohen song of the same name; POEN is a 1967 film in which Leonard Cohen reads and re-reads a prose poem from his novel Beautiful Losers as diverse photographs flash by, juxtaposing word and image for a different effect each time; A KITE IS A VICTIM: "Worthy, lyric and pure," a line from this early Cohen poem, describes this animated short and the poetry itself; and ANGEL: A man, a woman and a dog take turns donning wings in this 1966 experimental film that both mocks and embodies the spirit of its decade. Featuring music and an uncredited appearance by Leonard Cohen.


Thursday December 14 8:30pm
BYO8: MUSIC!!
Rounding out a week of astounding music-related films, now it's your chance to shine. This special edition of Bring Your Own Film Night is devoted to music. Bring down that rock video you made that never aired, or better yet a musical instrument and play along to your chosen moving images. As long as it is under 10 minutes and on 16mm, Super 8 film or VHS, well screen it! And remember - cue your tapes!

Friday & Saturday December 15/16 8:30pm
CANADIAN THEATRICAL PREMIERE:
MARCUS ROGERS' THE WIDOWER
From COAL band-member and local rock video man-about-town comes THE WIDOWER, a black romantic comedy that combines the menacing dreamscapes of David Lynch and the dysFUNctional characters of John Waters. THE WIDOWER's world is a colourful, cartoonish one, where the lines between order and chaos dissolve, reality and delusion are one, and love endures beyond the grave. Milton Smythe is unable to accept the unexpected death of his beloved wife, and although she no longer moves of speaks, Milton still hears her and is determined that they remain together. With his annoying sister-in-law on his case, as well as the police and a snoopy neighbour zeroing in on his eccentric ways, Milton's anxiety, guilt and paranoia lead to more and more extreme hallucinations. Will Milton survive the death of his quickly deteriorating wife? Find out here.... Featuring music by COAL, THE COLORIFICS, HUEVOS RANCHEROS, NEKO CASE, DOA, THE EVAPORATORS and others as well as cameos by Joey "Shithead" Keithley, Nardwuar The Human Serviette and Jello Biafra,

Sunday December 17 Early Show: 7:30pm
Idera Presents SOUTH OF THE BORDER
A colourful and entertaining survey of popular music in Central America, from Mexico City to Managua, where music has become a forum for social commentary and political protest. Australian filmmaker David Bradbury and his crew covered five countries in five months — Mexico, Guatemala, El Salvador, Honduras, and Nicaragua — in search of the music.The film captures and sets to music the excitement of 200,000 chanting students cast into "the classrooms of the streets" in the largest demonstrations seen in Mexico since 1968. In El Salvador, the filmmakers went aloft in U.S.-supplied helicopters, then slipped around army patrols to film musicians and combatants in the leftist guerilla zones. On Guatemala's Caribbean coast, the Watusis, a group of seven kids (descendants of African slaves) rap out a rhythm on their makeshift instruments — jam tins, plastic bottles and tortoise shells. In Honduras, local musicians protest the military occupation of their country. On the Nicaraguan border, Sandinista folksinger Norma Helena Gadea and Mario Rojas sing for Nicaraguan troops. Interspersed with the musical performances in each country are scenes of local poverty and militarization. In the midst of these disturbing images of social and political turmoil, the music — including beautiful ballads, reggae protest verses, a wistful children's chorus, and revolutionary-style salsa — provides a vibrant illustration of how music in Central America today plays a social as well as an artistic role. Guest Speaker from Hijos (Children of the Disappeared) and friends in attendance. Call IDERA at 738-8815 for more information.
WE ARE CLOSED FOR THE HOLIDAYS AND A WELL-DESERVED BREAK DECEMBER 19-JANUARY 9. GO SEE SOME OF THOSE BAD CHRISTMAS FILMS IN THE MEANTIME AND PRAY FOR SNOW (INSTEAD OF RAIN).

Wednesday January 10 8:30pm
REEL CHOICE A part of ROCK FOR CHOICE
Reel Choice explores identity, sexuality and political 'choices' through a collection of short video and super-8 pieces created by local emerging artists. Included in tonight's show NOBODY KNOWS MY NAME, a feature documemtary by LA based film and video maker RACHEL RAIMIST. The film is journey into the lives of women "living hip hop." It draws you into the stories of the main characters- Medusa, T-Love, Lisa, Asia One, DJ Symphony, and Leschea. What results is a portrayal of women as the foundation of hip hop. They are the poets, performers and the visionaries; the true essence of hip hop culture. LAUREL SWENSONS MARKING THE MOTHER is a reflective documentary in which the director ruminates upon the experiences of being a mother with publicly visible tattoos. Six tattood mothers are interviewed and asked to mull over an apparent contradiction- mothers are not expected to permanently mark their bodies and women with these marks are not expected to be mothers. SHORT VIDEOS Barely Legal: A Pubic Service Announcement, by Helen Reed; My New Life: A diary by Adam Garnet Jones, The Girl Problem: A four Part series by Naomi Steinberg and Lisa Tremblay and Telling the truth in difficult times by Amey Kazymerchyk

Thursday January 11 8:30pm
BYO8
The first Bring Your Own Film Night of the REAL new millenium - bring your flicks and sport that great new sweater you got for Christmas. Films up to 10 minutes in length are accepted and it's only $3 (plus membership) to get in if you are carrying! Come early for a special round of bubbly on the house!

Friday January 12 8:30pm
JESSE LERNER IN PERSON WITH
RUINS
We are pleased to start off the new year with a special in-person appearance by LA director JESSE LERNER and the Western Canadian Premiere of RUINS, his brilliant treatise on phonies, fakes and facsimilies. "Much like Umberto Eco did with his book Travels in Hyperreality, Lerner uses his film "Ruins" to question whether or not what "experts" present to the public as reality might actually be fake. In this pseudo-documentary, newsreels, travelogues, and home movies are combined to trace the path of several ancient Mayan artifacts from the time they are removed from their native soils to their arrival in a new home, a museum in the United States. Along the way, academics, all of European descent, decide what the history of these objects was, thus ascribing to them a new reality. However, the true genius of Lerner's work comes not from his attacks on the learned, but in the questioning of his own enterprise. He pokes fun at the fact that filmmakers are no different from people in academia, since neither have yet to corner the market on truth and must continue to tell stories based on what their imperfect eyes see. All this, and a fast-paced, but not overpowering, visual style, make this often funny film a "true original."" (Athens International Film and Video Festival)

Saturday January 13 through Thursday January 18 8:30pm (no show Monday)
Western Canadian Theatrical Premiere
BENJAMIN SMOKE
With BENJAMIN SMOKE, directors Jem Cohen (Amber City, Buried in Light, Fugazi's Instrument) and Peter Sillen (Speed Racer: Welcome to the World of Vic Chestnutt) have created an extremely personal and genuine portrait of Benjamin - an eccentric and troubled speed-freak, drag-queen, and musician essentially unknown outside of the Atlanta underground. "Riveting, beautifully composed, funny, sad and spilling over with excellent music, this near-perfect film documents the twilight hours in the life of a flamboyant, fringe-dwelling, performance-art queen from Cabbagetown, Georgia, where punk is still a transgressive gesture. Benjamin's amazing band, Smoke, provides a threadbare orchestral backdrop of haunting and spirit-rousing songs. " (Sean Nelson, The Stranger) "BENJAMIN SMOKE was never intended to be a traditional documentary. It is a portrait of a musician, a music film, but one that avoids the promotional cliches employed in today's superstar obsessed climate. He was a genuine underground figure, an outsider whose difficult life was channeled and transformed by the music that he made, and whose music transformed others. It is a film about the struggle with AIDS and the effects of addiction, but it is also something of a comedy. It depicts a neighborhood in transition, reflecting the colliding forces that are creating America's "New South." Perhaps most surprising to us, the filmmakers, is its broader function as a narrative reflection on art and chance. BENJAMIN SMOKE is the story of a boy growing up in the rural South who sensed his own difference, a "queerness" that isn't just about gender. It tells how he heard the call of distant heroes whose championing of renegade paths gave him a direction to follow, and how his own journey then came to affect some of these once-distant heroes." -Jem Cohen, co-director.

Friday January 19 8:30pm
MULTIPLEX GRAND VERSION 8.0
As crazy as it sounds, this is the EIGHTH Multiplex event to be hosted at the Blinding Light!! and tonight MG top them all with a no-holds barred battle for power and dominance in the land of image and sound. Risking it all, Vancouver's favourite audiovisualist triumvirate return to feature a meshing of high and low tech both in the audio and visual realms. Our old friends LOSCIL, 5T-3V3, and ZERO SQUARED (aka Scott Morgan, Steve Wood and Les Smolenski) will mesmerize and mystify with their hypnotic rhythms and hyper-layered visuals. As usual, surprise and ever-talented guest performers will join in the fun...don't miss out!

Saturday January 20 8:30pm
LIFE HISTORY OF A STAR:
THE FILMS OF JENNIFER GENTILE
DIRECTOR IN PERSON!
Besides from being an extremely accomplished curator, set decorator and art director for the likes of Mike Figgis (Timecode) and Greg Araki (Nowhere, Splendour), filmmaker Jennifer Gentile has been making gorgeous and insightful work for over 10 years to great acclaim. With a retrospective at the L.A. FilmForum as early as 1996 and again in 1999 at Pacific Film Archives in Berkeley, we are pleased to have a chance to present a retrospective of her work from the '90s right here with Ms. Gentile in person, including the Canadian Theatrical Premiere of LIFE HISTORY OF A STAR which premiered at SUNDANCE in '99. LIFE HISTORY OF A STAR glimpses into the warped realities of Angie and Dave, an enthusiastic couple traveling to Hollywood with dreams of success. Vanity, self-worth and abandonment are re-examined in unique ways as their trip unfolds.... Also featured: MY PRETTY LITTLE GIRLFIREND features an innocent lunch at a diner between a lesbian couple turned sour when a hamburger becomes the catalyst for a heated argument about weight. "A pretentious seven minute jerkoff!" (Orange County Weekly); ISABELLA HOLDING A POT OF BASIL is five quirky tales inspired by Baccaccios Decameron retold to reflect a gritty, harsh view of women who suffer at society's hands exploring hypocrisy, isolation and identity; ONE EYE LEADS explores the ideals of what a woman should be, defined and destroyed through the illumination of the Martyr Lucy, Patron Saint of the Eyes. PLUS: CORN SMUT, a confrontation of the dangerously close relationship between flirtation, sexuality and assault.

Sunday January 21 8:30pm
EYE OF NEWT PLAY LIVE TO THE SILENT CLASSIC
THIEF OF BAGDAD
EYE OF NEWT return to indulge us with their brilliant musical accompaniment one of the most spectacular adventure-epics of the 1920's - bar none. THE THIEF OF BAGDAD stars Douglas Fairbanks as a freedom-loving artful dodger who survives quite well by stealing everything he needs. Contented with his lifestyle, he begins to question his "profession" when he romantically succumbs to the charms of The Princess (played by Julanne Johnston). This self-made prince of the streets pretends to be of royal blood to get her attention. He then vows to reform and sets out upon a quest to find and present her with the rarest objects on earth. During his quest, he encounters danger, adventure and enchantment from a most fantastic array of mythological creations to test his mettle. His greatest enemies are human - The Mongol Prince (played by Sojin) and his beautiful, yet deadly slave (played by Anna May Wong). This powerful prince also has his lustful eye on The Princess and her realm. The production was long in preparation, and it was one of Douglas Fairbanks' eagerly awaited films featured the most astounding set design of the time.

January 24 - February 4, 2001
Touchstone Theatre Presents
KICKED by Michael Healy
Kicked is brilliant. - The Globe and Mail A little girl disappears. The only clue is her right shoe. A man appears in an emergency room having been kicked in the balls. Really, really hard. The Blinding Light!! is pleased to host Touchstone Theatre's presentation of KICKED by Michael Healey. Call 709-9973 for more info and tickets!
(top)