Party People In the House


Final volunteer party in Alex's backyard, 8/3/03. Roll-over photo to match faces with names.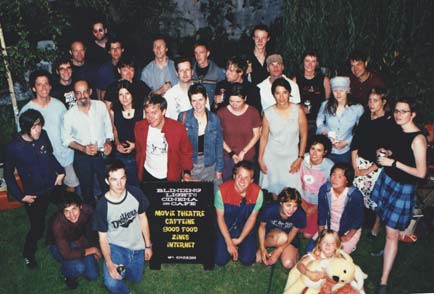 Photo: Paul Demers

Not pictured, or at some other party that night: Stephanie Aitken, Marc Bell, Jennifer Chan, Paul Demers, Tim Grant, Jason Kadman, Jane Lee, Paul Levine, Lisa O'Neil, Nyla Raney, Kevin Spenst, Skidge, Kyla Sweet, Jen Wechsler, and many other past volunteers and contributors - a huge thanks to all.
Partygoers/volunteers:
1. Alex MacKenzie
2. Wayne Morhart
3. Richard Sexton
4. Mel Tobias
5. Ben Frey
6. Bob Ellenton
7. Rod Andersen
8. Nick Ewart
9. Jeannette Ordas
10. Clare Kenny
11. Steve Wichuk
12. Cornelius Bergen
13. Travis Bourque
14. Bill Taylor
15. Clare Hodge
16. Chris Tucker
17. Jonas Dodd
18. Amy Walker
19. Michael Undem
20. Michael Mackinnon
21. Braden Jones
22. Heather Young
23. Colleen Heslin
24. Dove Lang
25. Allison Smith
26. Amy Lockhart
27. Marlene Yuen
28. Brad Poulsen
29. Elizabeth Zvonar
30. Serena McCarroll
31. Frances Devlin McDonald and stuffed pal