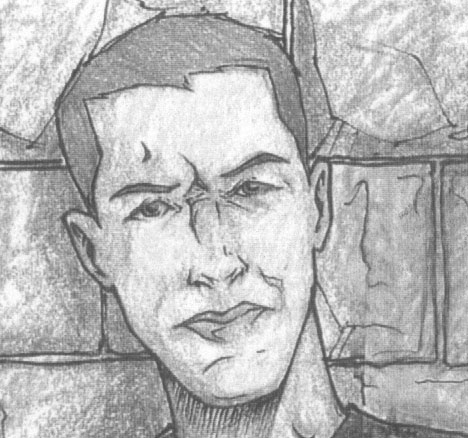 Tuesday & Wednesday May 1/2 8:30pm
Ill Character Productions'
CONVERSATIONS FOR A DOLLAR
PLUS: SKATESHORTS!
Take one part SLACKER and two parts BEASTIE BOYS and you get Jason Fisher's smart-ass CONVERSATIONS FOR A DOLLAR, an in-your-face rant from a recent homeboy philosophy graduate desperate to get the word out. Based around the very simple premise of a series of conversations between a neighborhood street performer (who charges a buck for a conversation) and the various characters with whom he interacts, CONVERSATIONS FOR A DOLLAR contains among many things, a mockery of Superman, a discourse on the nature of mathematics, a battle between two rappers, a pimp's wondering about who gets the most ladies in the galaxy - Captain Kirk or Han Solo - and a Zen koan. The beauty of the film is how seriously every question is tackled and the strange effect it has of actually teaching us a few things in the process. ...almost unbelievably knowledgable about a variety of topics including Buddhist philosophy, quantum physics, and Batman -Chicago Sun Times. PLUS: A handful of skateshorts that tackle the cream of technique as well as the ever-painful spills. Included are lori d's DEFEATING PROJECTIONS and the collectively created GIRL SK8TERS SUCK plus more!!

Thursday May 3 8:30pm
MEESOO LEE'S VIDEO ZINE LAUNCH
BAD HAIR DAY
Likely Vancouver's hardest working and most prolific video maker, Meesoo Lee has spent the past couple of years creating smart, deadpan, self-effacing and deceptively simple short videos. Using little more than a couple of home VCRs and a video camera, Lee's works are proudly lo-fi and nothing if not inspiring to those who have been thinking about picking up a camera and doing something with it. Smartly packaged and yet utterly humble, these collections now number four (currently on sale in Vancouver and beyond). We are pleased to present the launch of Meesoo's latest - number five - entitled BAD HAIR DAY. Inspired by a recent visit to South Korea, the title video documents a dialogue with his parents about his offensive hairstyle, which results in a fateful decision... Also, from the archives of napier street studios: behind the scenes of my hair diary with Jeannette Ordas, cameo appearances by fluffy, home movies by guest artists, and more new videos!
TRENT HARRIS TRIPLE THREAT!
THREE NIGHTS OF TRENT HARRIS' FILM LUNACY
Step into the world of Trent Harris - the man who turned his back on Hollywood (Rubin & Ed) to create a strangely compelling and personal body of work which strikes at the chord of Meaning and Life! These three nights feature a tasty sampling of his handywork...



Friday May 4 8:30pm
CRISPIN GLOVER IN THE ORKLY KID
Plus: THE BEAVER KID & WILD GOOSE!
A rare screening of TRENT (Rubin & Ed, Plan 10) HARRIS' truly eccentric and uncategorizable short films, featuring the cult favourite THE ORKLY KID. Crispin has called this his favorite part of all time. In it, he plays the small town boy with big dreams of appearing on TV as his cross-dressing alias OLIVIA NEUTRON BOMB. (First Place USA Film Festival). Also THE BEAVER KID - Harris' personal favorite - a bizarre documentary featuring the inspiration for Glover's role in ORKLY - all the more strange because this time he's REAL! PLUS: In WILD GOOSE Trent Harris explores a bombing range while trying to find the guy responsible for writing joe's a nut licker on a sheep trough...



Saturday May 5 8:30pm
WILD GOOSE YOURSELF
Long lost pets, magic mushrooms, sneaky antelope and Timbuktu are the subjet of WILD GOOSE YOURSELF. An autobiographical stream of consciousness investigation of the utter strangeness to be discovered in the mundane, this video by Trent Harris provides some frightening insight into the mind that created RUBIN AND ED, THE ORKLY KID and PLAN 10 FROM OUTER SPACE. An expanded version of his past WILD GOOSE tape, Harris uses no strategy except a camera and himself, taking us on a journey of discovery in a world where nothing becomes a philosophical starting point to open up the meaning of life and its inherent absurdity. A prime example of life's rich pageant, this film also takes us on a tour of the incredible landscape of Harris' home in Salt Lake City. This guy is definitely on to something - don't miss the boat!

Sunday May 6 8:30pm
TRENT HARRIS' PLAN 10 FROM OUTER SPACE
Nancy Drew on acid Sundance Film Festival
A brilliant batty romp! Wired Magazine
Intelligent satire from one of America's premiere cult filmmakers Independent Film and Video
Here is the truly science-fictional side of Trent Harris as he takes aim at his home town of Salt Lake City Utah and the Mormons which inhabit it. This absurd and over-the-top B flick is injected with Harris' own special brand of humour. Chock full of cheap special effects, all the required scenes for a UFO conspiracy/invasion and starring everyone favourite alien KAREN BLACK - what more could you ask for? The film's heroine uncovers an unusual bronze plaque which leads to the discovery of a UFO conspiracy with links to the Mormon belief system....This ultimate sci-fi epic was banned in Boise and broke box office records in Salt Lake City.

Tuesday & Wednesday May 8/9 8:30pm
Bill Taylor presents
I SOLD MY SOUL ON EBAY!
Don't miss this astounding display of celluloid booty acquired by BILL TAYLOR, self-admitted Blinding Light addict, movie critic, curator and 16 mm film archivist. For the past months Bill has been salvaging Soundies, collecting commercials and otherwise madly bidding on treasures and travesties of 16mm history on EBay, the online auction that sells almost everything anyone might or might not want. The results are this astounding show of rare, often one-of-a-kind films on 16mm film - commercials, educational films, antiquated oddities and plenty more. Included (and all on 16mm) are BANANA SPLITS, an episode of the classic cult kiddie show; LORETTA, a wildly inept and funny early Soundie, WITH MY EYES WIDE OPEN, featuring PATTI PAGE maintaining her ironclad hairdo despite gale force winds(!); HUNTING DOGS IN ACTION, a disturbing and deadly serious study of man's best hunting friend and a lot of dead ducks, SCHOOLS AND RULES: RULES TO OBSERVE A ZOO BY, a generic kiddie educational made fascinating for its glaring technical flaw. PLUS: Five Card Stud, Coming Attractions, Post-Apocalyptic-Petroleum-hell Sci Fi, commercials, Population growth films and MORE! Co-sponsored by THE LOOP.

Thursday May 10 8:30pm
BYO8
A time to gather and celebrate the films of family and loved ones, of cherished moments now potent memories, of the good old days...and whatever the heck else you've got! Our monthly installment of Bring Your Own Film night keeps getting better - come on down and move someone with your moving images: Super 8, VHS, 16mm, we'll take them all! (10 minutes max, excerpts accepted). Only $3 to get in if you're carrying!!

Friday May 11 8:30pm
PHILIP HOFFMAN IN PERSON WITH THE
VANCOUVER PREMIERE of
WHAT THESE ASHES WANTED
We are very pleased to present Philip Hoffman in person to present the Vancouver Premiere of his latest film what these ashes wanted. Hoffman has long been recognized as Canada's preeminent diary filmmaker and is keenly attuned to the shape of seeing, foregrounding the image and its creation as well as the manufacture of point-of-view.
What these ashes wanted places flesh on the poet Ann Carson's words, Death lines every moment of ordinary time. Not a story of surviving death, but rather, of living death through a heightening of everyday experience.
The film draws on images and sounds gathered over the course of Hoffman's relationship with Marian McMahon, from their early meetings in the mid-80s to her unexpected death from cancer and beyond. The three parts of the film (entitled He always thought they would grow old together; Four shadows; and 17) form a rich combine of hand-processed film, video diaries, saound recordings from daily life, and epistolary voice-over. What these ashes wanted is the result of several years of hard work coming to terms with the traces and fragments of a life that has ended but
whose presence persists.

Saturday May 12 8:30pm
Phillip Hoffman's
?O,Zoo! (The Making of a Fiction Film) &
passing through/torn formations
With context and opportunity in mind, we present Phil Hoffman's truly gripping and awe-inspiring earlier works to complement the screening of his latest work (see above). With ?O,Zoo! (The Making of a Fiction Film) Philip Hoffman uses the pretext of shooting a documentary on the set of Peter Greenaway's new film, A Zed And Two Noughts to pursue his investigation of the medium. Hoffman continues the odyssey-diary he began in his earlier films of trying to assign coherence and meaning to the fragments of truth defined as experience. At the same time, he is deeply influenced by Greenaway's approach to the documentary, which is to say, a cross between experimental and a near total rejection of the traditional form. ?O, Zoo! is a metaphor, the filming of the filming of a fiction film. It is also a puzzle, whose pieces, once together, lend themselves to reflect a picture of dissemblance. (Gary Evans, 1986 Grierson Seminar)
passing through/torn formation is a wide open ramble through the labyrinth of memory, considered primarily as a family affair. The film deals with the life and history of Hoffman's Czech-born mother and her family, as presented as a kind of polyphonic recitation of words, of images, and of sounds... (Robert Everett-Green, Globe & Mail) and accomplishes a multi-faceted experience for the viewer - it is a poetic document of Family, for instance, but Philip Hoffman's editing throughout is true to thought process, tracks visual theme as the mind tracks shape, makes melody of noise and words as the mind recalls sound. (Stan Brakhage)
Many thanks to the IMAGES FESTIVAL in Toronto and CHRIS GEHMAN for making this screening possible. This mini-retrospective of Hoffman's work coincides with the publication of Landscape With Shipwreck: First Person Cinema and the Films of Philip Hoffman, a book on Hoffman's work, edited by Karyn Sandlos and Mike Hoolboom. The book is published by the Images Festival and Insomniac Press, and is distributed in Canada by Publishers Group West Canada (Toronto).

Sunday May 13 8:30pm (repeats Sunday May 20)
THE FILMS OF CHARLES AND RAY EAMES
Through a special arrangement with Pyramid Films, we are very pleased to present this stunning collection of works by world-renowned designers Charles and Ray Eames. Likely most famous for their Eames stacking chair and their film POWERS OF TEN, the Eames' were the power couple of design in America for over five decades. They also made over 80 short, often industrial films in their very distinctive style. Among these and screening here is POWERS OF TEN, the cinematic classic that opens at a lakeside picnic in Chicago and draws back in perspective by order of magnitudes of ten, every ten seconds, until the Milky Way is a dot of light lost amidst an unimaginably large universe, then reverses the journey, ending inside the proton of a carbon atom. Also the original concept film developed for IBM will screen, entitled A ROUGH SKETCH FOR A PROPOSED FILM DEALING WITH THE POWERS OF TEN AND THE RELATIVE SIZE OF THINGS IN THE UNIVERSE. PLUS: 901: AFTER 45 YEARS OF WORKING, filmed during the dismantling of the famous office of Charles and Ray Eames, this film offers a whirlwind tour of the material accretions of four and a half decades of visionary artistic endeavor. HOUSE: AFTER FIVE YEARS OF LIVING featuring Elmer Bernstein's fine score, this filmed record of the Eames' personally designed home becomes a visual poem evolving out of four walls and the accumulation of beloved objects that reflect the people who live within. Also TOCCATA FOR TOY TRAINS, LUCIA CHASE VIGNETTE, KALEIDOSCOPE JAZZ CHAIR, ATLAS, BLACK TOP and more!

Tuesday May 15 - Saturday May 19 >>8:00pm nightly
HOMENAGEM A BADEN POWELL
A visual and musical tribute to Brazilian master guitarist/composer Baden Powell de Aquino, one of Brazil's most accomplished composer and guitar player. He is considered to be one of the founders of the Bossa Nova movement, collaborating with a number of world famous Brazilian artists throughout his life. His influence on the music of the second half of the 20th century is still being felt around the world.
Musically, this special tribute brings together international Brazilian artists: multi-instrumentalist Celso Machado; vocalist Bia (winner of France's AcadÈmie Charles-Cros grand prize), percussionist Silvano Michelino; and French actor/singer/composer/film director/traveler Pierre Barouh, who created the vision for this reunion. Vocalist Bia has recently released her second CD, Sources, which has received rave reviews.
Visually, this special tribute includes rare movie footage of Baden Powell filmed in 1969 by Pierre Barouh when Baden Powell was at his peak of musical virtuosity. The event will also host the Vancouver-premiere presentation of Jean-Claude Guitter's documentary on Baden Powell, shot shortly before his death, which includes moving scenes of the guitarist's return to his birthplace after 50 years.Tickets $18, Available at: Sophia Books, Amazon Jungle Juices, Highlife Records & Black Swan Records, or call 734-7907 for Info and Reservations.


Sunday May 20 8:30pm
THE FILMS OF CHARLES & RAY EAMES
SEE DESCRIPTION ABOVE TOP, MAY 13.







Tuesday May 22 TWO SHOWS: 8pm & 9:30pm
ANGST AT LARGE + NARMADA DIARY
(In conjunction with Asian Heritage Month)
NOTE: DOUBLE BILL PRICES: $8 plus membership
8:00pm Canadian Premiere: Shankar Borua's Angst at Large with Director in Person!
Political documentary, seeks to examine and explore the current chaos in North-East India with special reference to Assam. Disturbances, political and natural, are not new to the region. Ravaged by floods every year, Assam now for the last two decades is in the throes of an uncanny kind of crisis. A working democracy seems to operate on the surface while a silent majority continues to be mute spectators in a drama rife with blood and gore. As rebels fight for an independent Assam, the Government of India's military machine works overtime to bring them back to the ëmainstream'. Sponsored by South Asian Network of Secularism and Democracy
9:30pm: Anand Patwardhan's Narmada Diary
This award winning documentary chronicles the struggles of the Narmada Bachao Andholan against the development of Sardar Sarovar Dam project in the Narmada Valley which boarders the States of Gujrat, Rajastan and Maharashtra in India. Patwardhan shows how the project continues to displace thousands of people and destroy the ecology of the valley even after the movement forced the World Bank to pull out of the project. Update on the Narmada Valley will follow the film with a Q&A. Sponsored by the Vancouver Narmada Support Group.

Wednesday May 23 EARLY SHOW: 8pm
DESPERATELY SEEKING HELEN + SOUTH ASIAN SHORTS
(In conjunction with Asian Heritage Month)
What is it to be Indo-Canadian? Being brought up in two cultures can be confusing. With DESPERATELY SEEKING HELEN, Eisha Marjara tries to find a balance of living in two cultures as she takes us first to her childhood in snowbound small-town Quebec and then to Bombay, India, where she desperately tries to track down Helen, a famous Indian movie star in the world's largest dream factory. Helen becomes a passage into Marjara's real world - her unsettling youth, life-threatening anorexia, and the devastating 1985 Air India bombing, which took the lives of her mother and sister. This video revisits '70s pop culture of Marjara's youth and enters the fascinating world of the Bombay movie industry - Bollywood. (V 80 min)
This screening also includes the world premiere of Within You Will Remain, Martin Kumar's visually stunning experimental film from Singapore shot in Mandarin and Japanese, and Yasmin P. Karim's award winning Oppo, celebrating opposites, and expressing how opposites create perfection from one another. Finally, Shira Avni and Serne El-Haj's From Far Away tells the autobiographical story of a young girl's tribulations as she adjusts from her war-torn home of Beirut to a quieter and safer life in Canada.

Thursday May 24 8:30pm
THE FANTASTIC PLANET
This is the astounding fully animated French/Czech science-fiction adventure based on the drawings of Roland Topor. The Fantastic Planet tells the tale of an alien world where diminutive humanoids are enslaved and kept as housepets and playthings by a race of giants. Eventually a humanoid decides to revolt... Originally brought to America in the early '70s through Roger Corman's New World Pictures European Acquisitions, the film was wildly successful on the B-movie circuit with the post-hippy trippers, seen as a metaphor for class struggle but best remembered for its eerie and beautiful animation and mesmerizing AIR meets early FLOYD soundtrack. (16mm 78 min 1973)

Friday May 25 8:30pm
Super Super 8 World Tour 2001
With PAOLO DAVANZO IN PERSON!
From the cobwebs of your grandfather's basement to the remote islands off the coast of Sicily - Super Super 8 has scoured the globe once again for the greatest current cinematic wonders to take on it's 2001 World Tour. This year's cinematic circus travels across North America, Europe and Japan with a mission to celebrate the beauty of small format filmmaking. As usual, this caravan of celluloid madness will incorporate audience sing-a-longs(!), glorious prizes and give aways; live musical accompaniment to certain numbers and bingo played throughout the evening (with GOOD prizes!). Films include brand new and stunning works from the likes of MARTHA COLBURN, GRETA SNIDER, MATT HULSE, REED O'BEIRNE, DAGI BRUNDERT, MATT MCCORMICK, and PAOLO DAVANZO, our host for the evening, and MANY MORE!



Saturday May 26 8:30pm
R.G.B. LIVE
We are pleased to present R.G.B. in their first live solo Vancouver show. R.G.B. is a Victoria-based audio-visual trio working exclusively in a real-time environment. Signals transmitted through the airwaves, both television and radio, are used as the source material which is then processed electronically. The result is a kindred abstract film, with soundtrack accompaniment, all created in real-time. In addition, performing in a completely improvised context adds to the liveliness and unpredictability through the incorporation of random processes. Don't miss out on this one-of-a-kind immersive and mind boggling show. R.G.B. is Jeffrey Allport (audio processing), Ryan Dvorak (visual processing and manipulation), Todd Mason (audio processing and live sampling).



Sunday May 27 8:30pm
IDERA PRESENTS LUCIA
Acclaimed worldwide as the ëGone With the Wind of the Cuban film industry', LUCIA is indeed Cuba's first film spectacular, an epic, three-part feature film dramatizing three separate periods in the Cuban struggle for liberation in order to show the participation of Cuban women in that fight. Each episode is filmed in a distinctive visual style which translates the spirit of each historical era, with the themes of love, death and war achieving epic proportions. In its depiction of the classically machismo Latin culture, LUCIA puts into clear perspective those long-standing social attitudes and customs which have determined the second-class status of women. LUCIA is thus at one and the same time a unique view of Cuban history and Latin American culture as well as a dramatically engaging examination of women's worldwide struggle for social equality.

Tuesday & Wednesday May 29/30 8:30pm
ROYAL ART LODGE VIDEO
Michael Dumontier, Hollie Dzama, Marcel Dzama, Neil Farber, Drue Langlois and Myles Langlois make up the artists' collective known as the ROYAL ART LODGE who work both collectively and on their own as artists in Winnipeg. Acclaim around their work of late has reached near Warholian proportions with folks snapping up everything from sketches to full-on paintings with desperate fervour. Don't miss this sampling of their video work with these two separate shows. On Tuesday night we feature a full evening of collectively created works featuring hand puppets, living collage, the michelin man, cartoons, robot dramas, accordian antics, wild animal attacks, special strange guests and plenty more. Resembling a home-made variety show and combining techniques and formats, the video is a testament to the home made and hand made that cuts through any kind of pretention. Wednesday night features VIDEA VIDEOLA, a survey of sorts of the video side of the Langlois collective brain - an amalgam of favourite scenes made by Myles and Drue Langlois and compiled by Michael Dumontier. Also, MIDNIGHT MOVIE FACTORIUM, an experiment in which each brother would take turns making scenes and putting them right onto the master tape until half an hour had been filled up. The experiment failed, however, so we took the bad scenes out and replaced them with stuff that wasn't as bad. Here is the final product. Please keep in mind that these videos were originally only meant to be seen by our friend, Michael. We hope you enjoy them but don't forget to spend lots of time outside so you can enjoy nature's beauty as well. (Myles and Drue Langlois)
The short fragments splinter contemporary consumer consciousness into a dreamlike zone of colliding images, using the unpredictable desires of spontaneous play - Rodney Latourelle, Border Crossings Magazine

Thursday May 31 8:30pm
Cineworks presents
ISOLATING INCIDENTS
(in conjunction with Asian Heritage Month)
Cineworks and Asian Heritage Month present three recent works that explore isolation from a decidedly Asian perspective. In Michelle Wong's DO WOK A DO: A woman's earthly escape leads her daughter, a young Chinese Canadian girl, to seek her ownóin outer space. ISLAND OF SHADOWS takes you on a sorrowful journey to D'arcy Island in the 1890's and examines the factors contributing to the creation of the leper colony and to the inhumane treatment of the Chinese people that were abandoned there. BY THIS PARTING is Mieko Ouchi's evocative and abstract look at the life of the filmmaker's great aunt, based on the photographs Ouchi inherited, and focused on speculation about her time in a TB sanatorium in New Denver, B.C. during World War II. Both document and performance, mixing photographs, poetry and drumming, it is a highly personal imagining of the internment experience.

Friday June 1 8:30pm
R.ROOM MEDIA SUBVERSIONS
Don't miss this one night only multi-media feast with special guests R.ROOM. R.Room is a multimedia collective devoted to reordering the media it receives and rebroadcasting it in more interesting forms. Borrowing the images that bombard us daily, they combine film, video, graphics and a dash of social commentary and add music to taste. The original Corporate Version plus Subversion equals R version...featured will be ADDICTED TO HOLLYWOOD, a short, sharp videocollage cut from T.V. samples and aimed squarely at a world obsessed by body image and seduced by Hollywood, LIQUID CANDY an anti-pop video targeting the softdrink industry. In a cola market flooded with sugary options, consumption is king and kids are the victims. In UNHAPPY MEAL R.Room assaults the Golden Arches featuring content created entirely by R.Room and set to Patootihed's twisted beats. Check out the larger than life Evil Ronald! PLUS: The latest video from the California masters of smart-sampling NEGATIVLAND, custom built by R.ROOM, and more...



Saturday June 2 8:30pm to 8:30am!!
CINEMUERTE TORTURE GARDEN
an ALL NIGHT MOVIE MARATHON BENEFIT FOR
THE CINEMUERTE FILM FESTIVAL
We are pleased to present TORTURE GARDEN, a 12 hour benefit marathon for the Upcoming Cinemuerte Film Festival (held at the Pacific Cinematheque). It's simple really: starting price is $20 and goes down every hour you stay...because you don't pay to get in...YOU PAY TO GET OUT!!! Featured in this all nighter will be MERMAID IN A MANHOLE, MAD FOXES, COCKSUCKER BLUES, VIOLENT NAPLES, ISLAND OF PERVERSION, CRUEL JAWS, PINKSLIP, STEVE VAI'S GREATEST FAN and more....CALL 708-3519 for more information!

Sunday June 3 8:30pm
HEAD TO HEAD!
THE FILMS OF RICK RAXLEN AND AMY LOCKHART
The first in an ongoing series playfully pitting filmmakers against one another in a match to the death! Tonight we feature The Blinding Light's own daytime barista (and nightime animator) AMY LOCKHART. Amy's work will astound you with its faux-naive smarts and tricky-trippy humour. Rick Raxlen joins us from Victoria with an arsenal of stunning animated shorts and optically printed masterpieces. Also featured will be both artists' artwork in the lobby for you to peruse. Don't miss the showdown - HEAD TO HEAD with Lockhart and Raxlen! Films include Amy's THE DEVIL LIVES IN HOLLYWOOD, SYLVA LINING, MONKEY CLOUDS, BONK!, 4 LEG, WASPS and others, while Rick graces us with his award winning GEOMETRY OF BEWARE, DEADPAN, U-CHAMPIONS, SLIPPAGES, RUDE ROLL and plenty more.

Tuesday June 5 8:30pm
Faggy Kittens presents
HOMOPHILE ART MEET
Homophile Art Meet is one hot slutty night of queer short films about everybody's most hated subject. Sex. Sex. Sex. Curated by Faggy Kittens and featuring short films made by local queers, films to be screened include BLACK WIDOW PSYCHO SLUTS by Jen McNeely and Lyndsay Sung, a 1950s style porn trailer about a set of twins in an evil whorehouse shot on super-8... ANATOMY OF A RAT FINK by Amy Pee and Jason Jung, a hump action video... LOOKING FOR DADDY by Helen Reed and Julian Gunn, a trans vampire horror french sex farce and tons more. HAM will be followed by HONEYHAM, a booty waxin' all-out new wave modern dance party featuring go-go dancers, hot dogs and hot sluts - venue announced at the show!

Wednesday June 6 8:30pm
BYO8
Tonight is your night to shine - dust off that videocassette, polish that old 16mm film cannister and put on your best suit for yet another edition of Bring Your Own Film! We accept 16mm, Super 8 and VHS, with a limit of one film per person and 10 minutes max (excerpts are OK). You can't lose - cuz we'll take anything! And everybody wins! Remember, it's only $3 if you bring a film (first come, first serve).

Thursday June 7 8:30pm
KICK ASS with VANESSA RENWICK!
Vanessa Renwick has a wanderer's soul. She will never be tamed....her movies are not only about herself, or about the borders and patterns she sees. She gives love and recognition to the strivings of other outlaws. The result is a rare public-spiritedness. - William T. Vollman
We are thrilled to have the reigning Queen of the Portland Film Scene back with us finally for a visit and a look at her brilliant works. On the bill are two brand new films ñ LOVEJOY, and her recent collaboration (with Dawn Smallman) RICHART.
I am making the films that make the whole world cry...Some of them are like damned quick sketches, some of them go on and on over the years and ferment into collage-o-ramas to pry between the cracks of your squishiness. I can be serious, too serious, and one wouldn't even realize it. I'm not ticklish. I wish I was. Right now I'm making a movie on wolves, a movie on columns, a movie on wounded predators, a pixelvison movie on water towers, a movie on relationship hell, and a movie on ladies who pee on toilet seats...you know who you are, you idiots you. I don't watch tv unless I'm at a hotel, but I like to make installations and make others watch it. Television imitates television. yours in emulsion, Vanessa Renwick

Friday June 8 8:30pm
BIKE FILM NIGHT 2001
The Vancouver Area Cycling Coalition and Momentum Magazine present Bike Film Night 2001, a spandex odyssey. An evening of bike shorts (films that is) with some great new material and some classic favorites, back by popular demand. Free carbs! Astounding prizes! Bikish people! A benefit for the VACC, working their shapely buns off to make this region a better place to ride. This will be a great opportunity to pick up MOMENTUM and likely see some Dinosaurs Against Fossil Fuels!

Saturday June 9 8:30pm
SOFT ROCK. SOFT ROCK EVENING:
THE PRECIOUS FATHERS
Come enjoy a melodic evening with The Precious Fathers as they take you on a little trip through the mossy tundra of the cariboo, the great plains where you might live today if your great great grandpa had cheated on your great great grandma, where the fine aroma of old tractors and Mennonites meets the windy land and vast skies. For this evening's special performance, this very talented, subdued and mesmerizing instrumental band will play to some soft and subtle screenplay in celebration of not much, just niceness.
The Precious Fathers are: Michelle Grunert, Josh Lindstrom, Tim Loewen, Jaret Penner.

Sunday June 10 8:30pm
Idera Presents
ONE WAY OR ANOTHER
ONE WAY OR ANOTHER is a provocative and challenging feature-length dramatic film on the subject of human relations, particularly relations between the sexes. The story takes place in 1962, during the early years of the Cuban revolution. It is set in Miraflores, a new housing district built and inhabited by former residents of a shanty-town just outside Havana.
The extraordinary power of Gomez's use of intercutting dramatic material with documentary footage lies not merely in the juxtaposition of these two cinematic forms, but more so in their interaction within the film itself as it depicts the interpenetration of the public and private spheres, of people's personal lives and public demands made on them, in a...subtle and complex way. (Julia Lesage) One Way or Another is a perceptive portrait of a Cuba in transition, providing an unflinchingly honest examination of social problems still being resolved despite the profound transformation of the Cuban revolution. Call IDERA at 738-8115 for more information!

Tuesday June 12 - Saturday June 23 8:00pm
Prairie Boys Productions presents
STUCK by David Rubinoff
Chris McGregor, multiple award winner and co-director of the hugely successful House directs Jessie award winner Bob Frazer in STUCK, a one man journey that the CBC describes as Not for the faint of heart! A real, strong vision of being on the ropes...People should see this. STUCK charts the roller-coaster odyssey of Jack, a twenty-something would-be actor in search of sex, drugs, and cash. Events build until they finally bring Jack face to face with his own last chance ñ to get unstuck. Written in gritty, rhythmic language, STUCK is inspired by the beat tradition but infused with a ë90s sensibility. David Rubinoff is a Toronto playwright whose previous plays include: Tiny Addictions, Marriage of Convenience, Frog Family and Beyond Me. STUCK runs nightly at 8pm Tuesday through Saturday from June 12th to the 22nd. There will be two matinees, June 21st at 2pm and June 23rd at 4pm. Call 878-3366 for more information. Tickets are $11 at the door.

SATURDAY JUNE 16 9:30PM <offsite>
Medium Rare Productions & The Blinding Light!!* present
RETURN TO PORNO CHIC: DEEP THROAT + BEHIND THE GREEN DOOR
Special Event at THE FOX CINEMA
(2321 Main Street at 7th Ave) Hosted by JP5's Gerry-Jenn!
Through a special arrangement with the owners of The Fox Cinema, North America's last remaining 35mm X-rated movie house, the two classics of porn - and two of the TOP-GROSSING films of all time have been brought out of the archives and will be presented TOGETHER on one DOUBLE BILL, along with RARE, ADULT MOVIE TRAILERS from yesteryear.
DEEP THROAT (1972, 60min.) Arguably the most famous - and controversial - movie EVER, the one that got the whole ëPorno Chic' ball rolling back in June 1972, when headline reviews in THE VILLAGE VOICE, THE NEW YORK TIMES, and WOMEN'S WEAR DAILY prompted celebrities and middle class couples alike to openly patronize sexually explicit feature films, thus beginning the historic Golden Age of 35mm X-rated movies. Inciting legal charges which went to the Supreme Court and cost millions, DEEP THROAT made a household name of its star, LINDA LOVELACE - who later recanted her enthusiasm for the titular act and was embraced as poster girl by anti-porn forces. Thus, DEEP THROAT is a veritable keystone of the socio-political upheaval and clampdown known as The Seventies.
BEHIND THE GREEN DOOR (1972, 69 min.) Starring the infamous Ivory Snow girl MARILYN CHAMBERS, in her first X-rated movie role, and produced by the notorius MITCHELL BROTHERS, BEHIND THE GREEN DOOR actually premiered at the CANNES film festival before going on to gross countless millions at X-rated cinemas throughout The Seventies. Re-live the BIG SCREEN EXPERIENCE!!
Admission $7. *Blinding Light membership not required. (NOTE: you can bet that none of our government funding is being spent on this one!) Restricted to 18 years and older. INFO and ADVANCE TICKETS: 682-3269 (Box 6408)
returntopornochic@hotmail.com Where were you in '72?

Saturday June 23 8:30pm
EYE OF NEWT PLAY LIVE TO
FRITZ LANG's METROPOLIS
A return to the classic that started it all here at the Blinding Light for THE EYE OF NEWT COLLECTIVE. Tonight expect a newly revised live accompaniment to the astounding METROPOLIS. Fritz Lang's 1926 fear the future sci-fi extravaganza is an engaging tale of freedom fighting, sexy robots and the ultimate in futuristic city design. Featuring incredible sets and special effects, as well as a cinematic architecture like no other METROPOLIS still stands as one of the greatest sci-fi films of all time.



Sunday June 24 8:30pm
KAIZEN PLAY LIVE TO
BABY CART IN THE LAND OF DEMONS
A special appearance by one of Vancouver's young up and coming improv groups and a first for them here at The Blinding Light. Tonight they play their hearts out to BABY CART IN THE LAND OF DEMONS! The fifth film in the Lone Wolf & Cub Series, five warriors challenge Ogami to duels. The mission is to kill a mad Daimyo before he destroys the clan! As each one dies, he gives Ogami another part of his instructions: to kill their lord, his concubine, and their five-year-old daughter. Grimmest of the lot, but also graced with the finest photography in the series and a powerful incident centering on Daigoro, Ogami's young son.

Tuesday & Wednesday June 26/27 8:30pm
Ron Mann's IMAGINE THE SOUND
From Ron Mann (director of GRASS, COMIC BOOK CONFIDENTIAL, and POETRY IN MOTION) comes this exuberant profile of four legendary figures associated with the jazz avant-garde of the sixties - Cecil Taylor, Archie Shepp, Bill Dixon and Paul Bley - this award-winning film is an art exposition brought to life. The veteran jazz pioneers talk articulately about the theories behind their music and its historical context and give passionate performances of their work. A key chapter in the history of jazz. The best documentary of free jazz we have -Jonathan Rosenbaum.

Thursday June 28 8:30pm
CINEWORKS PRESENTS ASIAN EROTICISM
An evening of films by Asian filmmakers on subjects of love, sex, obsession, sensuality and more. This program will be curated by local filmmaker Fumiko Kiyooka. Kiyooka has produced and directed some twenty films. Because her background is in both dance and film, she has always had concerns to do with the body, identity and the sensual flow of images. Fumiko has been a choreographer, filmmaker, professor and curator of film.

Friday & Saturday June 29/30 8:30pm
GIANTS OF JAZZ
Move over PBS - this is the real goods screened on original and rare 16mm prints!! SWING, BOOGIE and BOP your way through the first 30 years of jazz on film. The earliest pieces give us depression fantasies of wealth, plus shots of life in Harlem. Soundies, made for juke boxes that played films are included along with Snader's Telescriptions made for TV in the early '50s. Check out this Blinding Light!! exclusive created by San Francisco film archivist Karl Cohen. Performers include: Duke Ellington, Lionel Hampton, Cab Calloway, Louis Armstrong, Ella Fitzgerald, Don Reman, Charlie Barnet, Gene Krupa, Louis Belson, Red Nichols, Benny Goodman, Noble Sissle, Count Basie, Fats Waller, Billie Holiday, Lester Young, Illinois Jacquet and many more! (16mm, 90 minutes)

JULY 2001



Sunday July 1 8:30pm
EIGENTIGER!!! NEW QUEER GERMAN
We are thrilled to have Joachim Post here in person from Hamburg Germany to present this wild and stunning program of recent German Queer films and videos for one night only. A truly eclectic and unusual collection sure to stimulate and raise a few eyebrows, among the picks are films by Ewjenia Tsanana from Hamburg including IN COLOUR and UP HIGH, and her slide-show WATERS OF HORROR, in which secret agents and synchronized swimmers join forces to battle evil! ADRIAN AND THE WOLF by Sylvie Lazzarini and THREE WISHES by Rudolph Jula will also screen, two shorts which take entirely different strategies dealing with AIDS. Also screening will be Petra Volpe's prologue THE KISS and BLUEBOX, SWITCH TO WHERE THE FLAVOUR IS by Kerstin Ahlrichsr....plus more! Joachim Post has been the Programmer for the Hamburg Lesbian & Gay Film Festival in Germany for the past 5 years. He is also a freelance journalist and founder of the radiomagazine FILMRISS, which is heard in several german cities. This year he was invited as a juror for the Teddy Award, the gay & lesbian Award of the Berlin International Film Festival.

Tuesday July 3 8:30pm
THE SWEETVITTLES WILD & WOOLY ANIMATION TOUR
With TRIXY SWEETVITTLES IN PERSON!
The Sweetvittles Wild and Wooley Animation Tour 2001 showcases fourteen fun, funky and experimental films by ten independent animators. Curated by filmmaker Trixy Sweetvittles, each piece is a testament to the idea that filmmaking is fun. Themes range from a loopy love story between leashed dogs to a spooky silly questioning of hyper-consumerism. With techniques featured from cut-outs to drawn to paint on glass
and cameraless collage, the central message that all the filmmakers are in love with the process shines through. Many of the films are award winners from festivals such as Ann Arbor and Black Maria. The specially selected filmmakers are all up and coming cutting edge artists from the U.S. and Canada. Each screening will include a raffle of artwork donated by the filmmakers. Animators in the show include HELEN HILL, TRIXY SWEETVITTLES, STEFAN GRUBER, DAN COONLEY, COLIN BARTON, AMY LOCKHART, SHELLY WATTEBBARGER and many others!

Wednesday July 4 8:30pm
Independent Exposure's ALL ANIMATION TOUR!
The mighty Joel Bachar of Microcinema Inc has compiled this astounding and hard-to-top collection of recent work by some of the world's finest animators. Ranging from the incredibly simple to the wildly complex, from stunning washes of colour to graphic fantasies, and everything in between. Among the pickings on tonight's bill are Michiel van Bakel's TRINITY STUDIOS, made using 32 disposable cameras, linked to each other with electromagnets, this film is an absurd combination of playing with fire on a cosmic and a personal scale; Stefan Gruber's THOUGHT CITY, in which an army of commuters goes about their routine and non-sensical business within an ever-shifting cement block world; Ellen Ugelstad and Alfonso Alvarez's FLIP FILM, an exciting, short trip on a bus in San Francisco as told through an animated photo/flip book; Dustin Woehrmann's EVERYBODY! BOWL, an animated mini-documentary looks at the secrets and fashions of our most fabulous obsession...bowling; PLUS: Dylan Marshall Sisson's OBJECT LESSON, A 3-D animation with music by Seattle's Kyle Hanson; Jen Sachs' TRANSLATIONS; Evan Mather's BUENA VISTA FIGHT CLUB and many more!

Thursday July 5 8:30pm
BYO8: HOME MOVIES
Bring out those family Super 8 heirlooms and video embarassments for a Bring Your Own Film Night devoted to the HOME MOVIE. Whether it be performed, entirely spontanteous real actions, or someone stranger's life, let's have a look! Bring a film and get in for $3. (10 minutes max, one flick per person please - home movies not mandatory, just suggested. You can bring whatever the heck you want to, awright?)

Friday, Saturday & Sunday July 6/7/8 8:30pm
Multiplex Grand X: The Festival
To celebrate the arrival of its 10th Blinding Light!! performance, the Multiplex Users Group has pulled out all the stops to put on a three-day Multiplex Grand festival on July 6,7 and 8th exclusively at the Blinding Light!!. This pocket-sized mini-fest will bring together a veritable army of past and future Multiplex contributors including locals Freaky DNA, m.pennyfish, Ben Neville and DJ Aural to name only a few. Along with our home-grown talents come out of town special guests Strategy from Portland and Peter Lucas from Seattle. And, of course, founding members loscil, Zero Squared, 5T-3V3 will contribute to what is surely to be the most exciting Multiplex event to date. Contributors will mix everything from film and video to computer generated imagery along with live electronic and instrumental music in unique ways. installations and DJ's will accent the performances on each evening. Watch http://members.home.com/multiplex for the latest schedule and news about Multiplex Grand X!!!
PXL 2000 POWER!!
Eight nights of all things Pixelvision

Tuesday & Wednesday July 10/11 8:30pm
BIG PIXEL THEORY
Don't miss this genuinely thoughtful and artfully assembled program from PXL afficionado and producer ERIK SAKS. All works date from the early days of PXL work (the late ë80s) and samples the young grade schoolers and teens to whom Pixelvision was originally marketed, along with media artists who accepted and exploited the primitive envelope offered by the toy camera. Even now, new Pixel work is emerging, by artists working with the reductionism of low-fi pixel image-making, and by a sector of the populace previously denied access to video culture. Pixelvision is an aberrant art form, underscored by the fact that since the cameras wear out quickly, and are no longer being manufactured, it holds within itself authorized obsolescence. Each time an artist uses a PXL 2000, the whole form edges closer to extinction. (Eric Saks) Among those screened this evening are works by James Benning, Joe Gibbons, Sierra Le Barron Mellinger, two classic from Erik Saks himself, YOU TALK/I BUY and DON FROM LAKEWOOD, and many more.

Thursday & Friday July 12/13 8:30pm
BEST OF PXL THIS FEST
Gerry Fialka has been running the PXL THIS for ten years (see below). Exclusively devoted to films made with the PXL 2000 Fisher Price camera, Gerry has seen ëem all! Tonight we present a special program assembled exclusively for this screening by Gerry of the best of the past ten years of festival entries. These films range from intimate to arty, funny to offensive and everything in between. Above all, they remain timeless ñ don't miss this rare chance to see these astounding works and a quick history of an entire decade of work! Among the pickings are: Lance Wagner's stunning doc on the anti-choice movement, GOD'S LITTLE SOLDIERS; Spike Stewart's WARHOL MACHINE, explores Andy and Marylin Monroe in this anarchistic funk grinder with Richard Crowley who appeared in the original GREAT ROCK N' ROLL SWINDLE and hip hoppers THE ROLLA BOYZ; the basic body of new knowledge to which master spy Bob Dobbs points to in MUTHER MUMESONS can prove to be vitally important for survival today. Original music by avant-garde pianist and Vancouverite Paul Plimley. See and hear Lydia Lunch in THE THUNDER: THE PERFECT MIND by Tom Richards and Marta, based on ancient gnostic Egyptian writing, a vibrant portrait of the spirit of New Orleans; Jan Kovac mind-boggles the viewer with a fly's eye view of multiplicity garbage cult classics and exotic dancing in his perplexing A MAN WITH HEART; Eric Stoltz stars in Michael Almereyda's ROCKING HORSE WINNER, the Citizen Kane of PXL filmmaking, the film remains a near-perfect evocation of southern California's ësunshine noir' duality and features some of the most entrancing imagery of the year (Paul Malcolm LA WEEKLY)

Saturday & Sunday July 14/15 8:30pm
PXL THIS 10!
PXL THIS 10 has it all, underscoring Fialka's obsession with showcasing a vast array of sensibilities without concern for the rigid boundaries (and unconscious censorship) of conventional programming Holly Willis, LA WEEKLY
PXL THIS is PXLmaker and curator Gerry Fialka's 10-year-old festival, based in Santa Monica and devoted to the celebration of the PXL 2000, the (now discontinued) toy camera by Fisher-Price. The camera features infinity focus, black and white images, and a low 2000 pixel resolution all recorded onto an audio cassette(!). Tonight we present the most recent festival highlights in a ninety minutes program of astounding and mesmerizing creative use of this humble camera. Included are Lee Sonic Youth Ranaldo's BOOK OF DREAMS: A TRIP THRU KEROUAC'S LOWELL, ten year-old Brady's DANCING DOG, a floppy-eared fandango rendering self-reflexive hilarity; Jeff Shepherd's CYBER SPACED takes us deep into the heart of one lonely guy and the computer woman he meets; ALFRED SHOOTS ADOLF is photographer Alfred Benjamin's story of what happened to him at the age of 18 in Germany (1934) when he looked at the enemy staring back at him through his camera lens. Songman Mark Hecht bellows a maniac love song with passion in THINKING OF YOU; Eli Elliott's PUSH BUTT takes on hand dryer corporations by culture jamming in and out of american restrooms. PLUS the hilarious GHOST STORY by Joe Frese, Mark Hejnar's startling shorts, and many many more! Slam poetry, performance, ersatz culture jamming, coming-of-age experiences; each one had its moment in the projector light. (PEGGY NELSON).

Tuesday July 17 8:30pm
MICHAEL ALMEREYDA'S ANOTHER GIRL, ANOTHER PLANET
I have the feeling Michael Almereyda is one of the best American New Wave directors. David Lynch Filmed entirely on a Fisher-Price PXL 2000 ëtoy' camera Another Girl, Another Planet goes way beyond most uses of this camera and hits its mark in the impressive form of a full-blown feature film. Almereyda (of recent HAMLET and past NADJA and TWISTER fame) has virtually always included the use of the Pixel camera in his films, but this was his first time committing to it exclusively. Using a clearly defined narrative form and excellent scripting, director Michael Almereyda has enticed superb performances from the whole cast. The striking almost ghostlike visuals created by ëPixelvision' only enhance the films dreamlike atmosphere. The simple but richly crafted story concerns the relationship between East Village neighbours: Nick, anxious and married, and Bill, whose life appears to be a constant stream of encounters with strange females. The ghostly monochrome results work best on an intimate scale, giving Almereyda's Lower East Side drama a dreamy intensity as it's boho participants float through a late night haze of romantic pessimism and aching longing. (Trevor Johnston, Time Out)

Wednesday July 18 8:30pm
SADIE BENNING'S FLAT IS BEAUTIFUL
Sadie Benning is best known for her lush and mesmerizing short pixelvision films, created with the Fisher Price PXL 2000 toy camera. Fascinating self studies of a young woman developing her ideas about her place in the universe, Benning's shorts brought her to international attention as an artist to watch out for. Daughter of well known and respected experimental filmmaker James Benning (which certainly didn't hinder her access to the art world) Sadie was screening her works at such prestigious institutions as the Museum of Modern Art by the tender age of 17. We are pleased to present Sadie Benning's first feature film FLAT IS BEAUTIFUL. An experimental, live-action cartoon using masks, animation, subtitles, drawings and dramatic scenes to investigate the psychic life of an androgynous eleven-year-old girl. Growing up in a working class neighborhood with her single mother and gay roomate, Taylor confronts the loneliness of living between masculine and feminine in a culture obsessed with defining gender difference. Shifting between black and white film and her trademark grainy pixelvision video, FLAT IS BEAUTIFUL explores the internal and external worlds of sad people. Remarkable for its emotive engagement and moments of pure poiesis (drag shadow dancing), as well as for its extraordinary formalist push, Flat will be remembered as one of those rare anomalies that inform the integrity and history of independent feature filmmaking. (PleasureDome).

Thursday July 19 8:30pm
ABJECT CINEMA
Over three and a half months ago a handful of some of Vancouver's most creative image-makers were given an assignment by the Blinding Light. We handed them each a crisp fancy new ten dollar bill and said go make a movie. But that is not all we asked. Oh no...there's more. We also asked that it somehow address the abject - that is, the transgressive, the disturbing, the horrifying. In past works, whether conscious or not, the abject has been a central motif or at least a passing interest for these image makers, and this is partially how they were selected, to say nothing of the brilliant works we have been seeing from each in the recent past. So come and see what they have torn from their minds and thrown upon the moving image surfaces with which they work. Tonight you will see the premieres of brand new commissioned works by MEESOO LEE, EMILY VEY DUKE & COOPER BATTERSBY, PAUL JAMIESON, AMY LOCKHART, JANE LEE, JOEL BAIRD & TRICIA MIDDLETON, HEATHER FRISE and others! Other surprises also await....don't miss out!

Friday, Saturday & Sunday July 20/21/22 8:30pm
CANADIAN PREMIERE:
PLASTER CASTER: A COCKUMENTARY
The hottest sex I've seen between a man, a woman, and a bucket of plaster -Chip Rowe, The Playboy Advisor
Plaster Caster is Jessica Villines' utterly entertaining documentary and intimate portrait of Cynthia Plaster Caster, of world renown for plaster-casting the penises of rock and roll's finest, including, most notoriously, Jimi Hendrix. In addition to providing a history of Cynthia's pursuits, the film documents the castings of two musicians, one shy, the other extroverted; as well as the preparations for her first gallery show in New York City. You'll marvel at Cynthia's unique, professional terminology she's developed over the years (like referring to her casts as ëbabies'), her collection of penis tchotkes, and her extensive lore on rock god genitalia. This lady knows dick. (NYUFF). Featuring candid interviews from rock stars, most of whom she has cast over the years (Noel Redding of the Jimi Hendrix Experience, Jello Biafra of the Dead Kennedy's, Eric Burdon of The Animals, Pete Shelley of the Buzzcocks, Jon Langford of the Mekons, and Wayne Kramer of MC-5 to name ust a few). PLASTER CASTER goes beyond the mythology and asks the penetrating question is this really art? Featuring the music of Noel Redding, The Aluminum Group, The Demolition Doll Rods, 5ive Style, Make Up, and Momus.

Tuesday & Wednesday July 24/25 8:30pm
MEDICAL AMATEURS:
Educational Hygiene/Medical films by the hospital staff!
This utterly compelling and wholly strange collection from our archives and beyond feature films made by non-professional filmmakers and/or actors (often hospital staff). Addressing highly specific ailments and concerns, these films are simultaneously ridiculous and tremendously moving in their efforts to fill a gap in the training film realm. WHAT IS A PERIOD? features a typical all-american family at home explaining how menstruation works to their child who has Down's Syndrome. Obviously geared toward the learning disabled, the film is quite explicit as well as extremely repetitive, driving the primary points home again and again ñ truly strange, and must be seen to be believed! THE REHABILITATION OF DELLA DERLEIN is an awkward and strangely static film discussing the care and recovery of this particular patient. Poorly recorded voice over and an incoherent cutting style make this 16mm oddity feel more like a home movie patient case-study than a typical educational film. MYOCARDIAL INFARCTION: THE NURSE'S ROLE is a genuinely entertaining nurse training film featuring actual hospital staff and patients playing themselves. Most fascinating is the disturbing subplot of the unconsummated (or is it?) affair between a young nurse and our patient as a reaction to his frustrated relations with his wife while in hospital. Shot in stark black and white, this film is a Freudian's wet dream.

Thursday July 26 8:30pm
NEW (CINE)WORKS
The latest and greatest short film and video works from members of Cineworks Independent Filmmakers Society, Vancouverπs only filmmakerπs co-op, and a venerable creative hotbed for new filmmaking talent in Vancouver for over twenty years! Directors will be in attendance, and a question-and-answer session will follow the screening.

Friday, Saturday & Sunday July 27/28/29 8:30pm nightly
IDERA PRESENTS TRINH T. MINH-HA MINI-RETROSPECTIVE
Friday July 27 8:30pm REASSEMBLAGE
A documentary film on women in Senegal, Reassemblage offers a fascinating glimpse of the lives of women in Northwestern Africa while challenging the codes of conventional anthropological reportage. Absent from Trinh's films are the standard codes of ethnographic filmmaking: talking heads, translators and native informants. Most important, there is no expert objective voice explaining, and thereby defining, what we see. At the beginning of Reassemblage Trinh comments: `I do not want to speak about; just speak nearby', thus rejecting the ethnographer's role.

Saturday July 28 8:30pm SURNAME VIET, GIVEN NAME NAM
In SURNAME VIET, GIVEN NAME NAM, Trinh T. Minh-ha turns to her own identity as a Vietnamese woman. More cinematically polished than her previous works, the film has the same eccentric cinematography, unconventional editing, multi-layered voice and music soundtrack, non-linear structure, and theoretical or political urgency. Of her other works. Archival and newsreel footage and still photographs of the Vietnamese war, beauty contests, and traditional folk dances are intercut with monologues by five Vietnamese women. These deliberately staged, long-take portraits, in which the women speak rehearsed lines in quiet and shy but determined voices, are juxtaposed with more conventional documentary images of the same women in their homes or at work, and with footage of younger women who have been raised in America in conversation with friends. The women speak of their own culture, their experiences of femininity and of immigration, their struggles in the American workplace, and their sense of themselves as exiles. Meanwhile, other voices on the soundtrack and texts on the screen situate their discourse in a discussion of the nature of the documentary, the politics of media images, the fiction of verite, and the truth of dramatic fakery. The film itself thus forms a record of the process of bringing histories and meaning into being.—Kay Armitage, TIFF

Sunday July 29 8:30pm NAKED SPACES: LIVING IS ROUND
This film weaves together an anthropological study of social geography, cosmology and the influence of women with intelligent and stunning cinematography into an account of a realm of African rule. Naked Spaces, an extraordinary feature-length documentary on African women, was filmed in the traditional villages of six West African countries (Senegal, Mauritania, Togo, Mali, Burkina Faso and Benin).
Breathtaking in their tactile beauty, the images seem to be edited in an almost intuitively associational process...the silences which punctuate the sound track are like another voice inviting us simply to look and look again.—Kay Armitage, TIFF.

(top)