NOVEMBER 1999



Tuesday/Wednesday November 2/3 8:30pm
THE ORKLY KID + OTHER ECCENTRIC SHORTS
A rare return engagement of TRENT (Rubin & Ed, Plan 10) HARRIS' truly eccentric and uncategorizable short films, featuring the cult favourite THE ORKLY KID. Crispin has called this his favorite part of all time. In it, he plays the small town boy with big dreams of appearing on TV as his cross-dressing alias OLIVIA NEUTRON BOMB. (First Place USA Film Festival). Also THE BEAVER KID - Harris' personal favorite - a bizarre documentary featuring the inspiration for Glover's role in ORKLY - all the more strange because this time he's REAL! PLUS: In WILD GOOSE Trent Harris explores a bombing range while trying to find the guy responsible for writing joe's a nut licker on a sheep trough.



Thursday November 4 8:30pm
THE MULTIPLEX GRAND: PHASE IV
The Multiplex Users Group is pleased to present its fourth Multiplex Grand at the Blinding Light!!! This incarnation features the return of the Multiplex corps for newly produced works of the electronic variety. Special guests Freaky DNA and slacks present new perspectives on the Multiplex Tactical Plan with their media manipulations. 5T-3V3 sings the body electric once again; Zero Squared muscles his way into your psyche with newly discovered impairimentalist test results; and loscil further explores the visual control of the waveform. Samples and pixels abound at this, the Multiplex Grand, an experience that should not be missed.



Friday, Saturday & Sunday November 5/6/7 8:30pm
HEAVY METAL PARKING LOT AND BEYOND: THE FILMS OF JEFF KRULIK AND FRIENDS
Jeff Krulik achieved cult status ten years ago as the man behind the hilariously disturbing HEAVY METAL PARKING LOT. While HMPL has been circulating for a long time on the underground circuit, Jeff has been busy creating even wilder and more astounding slices of real life along with his band of merry friends. We are pleased to present a special selection of some of the strangest and most engaging underground films around in this collection of Krulik films and beyond, including: Chuck (Devo rock video director) Statler's seminal AIN'T WE HAVING FUN?; PUBLIC ACCESS GIBBERISH, Krulik's early public access studio madness; KING OF PORN, featuring Ralph Whittington and his incredible collection of Porn; KING OF THE FREAKS, a trailer for the story of Johnny Eck the half-boy who appeared in the Tod Browning masterpiece Freaks; MR. BLASSIE GOES TO WASHINGTON, wherein a loud-mouthed self-proclaimed king of men professional wrestler is set loose on the streets of Washington, DC; ERNEST BORGNINE ON TOUR - Ernest Borgnine behind the wheel of his 40 foot bus traveling across America (a must-see if there ever was one); HEAVY METAL PARKING LOT, the classic Krulik film of Judas Priest fans awaiting the concert while getting drunk, high, and stupid; NEIL DIAMOND PARKING LOT - ten years later, the follow-up!; I CREATED LANCELOT LINK, the trailer for this reminiscence with the creators of LANCELOT LINK, a saturday morning TV show with chimps starring as secret agents! PLUS: TRIBUTE TO MAL, ROCK AND ROLL PSYCHOSIS, MEET FANBOY, ?, TV'S FROM OUTER SPACE (BUTCH WILLIS & THE ROCKS MUSIC VIDEO)



Tuesday & Wednesday November 9/10 8:30pm
PLOTNICK'S KICK-ASS INDUSTRIALS
From MOTORBOOTY mascot and the brain behind such Super 8 classics as STEEL BELTED ROMEOS and I'M NOT FASCINATING comes Danny "King of Super 8" Plotnick's private collection of extremely oddball and outrageously funny industrial films and TV trash. All the way from San Francisco to you comes this cherished and rare collection of fine finds, including VICIOUS CYCLES, five minutes of motorcycle miming mayem; A DAY IN THE DEATH OF DONNY B., a tale of heroine in harlem with a scorching score; CHILDCARE BY CHOICE, where we learn not to share diaphragms; LSD AND OTHER PSYCHEDELICS, featuring whiney New York teens talking about drugs; NARCOTICS: THE PIT OF DESPAIR, starring Kevin Tighe as a confused boy trapped in the tentacles of the drug octopus; HAUNTED MOUTH, where dental horror never seemed so animated PLUS: Clips of ADAMO the french pop singer, and FREE TO BE YOU AND ME clips of HARRY BELAFONTE with MARLO THOMAS, ROBERTA FLACK and MICHAEL JACKSON, plus THE RISE AND FALL OF DDT, in which scientists consume DDT to prove how safe it is(!)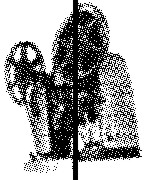 Thursday through Sunday November 11-14
THE SECOND ANNUAL VANCOUVER UNDERGROUND FILM FESTIVAL.
Brand new experimental, radical and cutting edge film and video from across the country, featuring tons of screenings, panel discussions, workshops, live film and video shows, parties and more!! Full schedules available at The Blinding Light!! and beyond - watch for them! and jump to Second Annual Vancouver Underground Film Festival.





Tuesday & Wednesday November 16/17 8:30pm
101 BEST AND WORST TV COMMERCIALS
From the private vaults of SF writer and film collector Karl Cohen (the man who brought us BETTER DEAD THAN RED: PARANOID PROPAGANDA CARTOONS) comes this incredibly rare and revealing look at television's cancerous lifeblood: commercials! Tobacco, soap, beer, cigarettes and more are pushed and peddled in these simultaneously inspired and insipid advertisements. Featured will be the very best and worst ads from the '50s and '60s including Dick Clark for Halo Shampoo, Lucille Ball for Phillip Morris, Tinker Bell for Peter Pan Peanut Butter, the destruction of a Rolls Royce for Clark Gasoline, the Ultra Brite toothpaste girls, Ronald Reagan for Boraxo, Wonder Bread's health claims, Alka Seltzer, Moola Koola, and more! PLUS: Classic bloopers featuring Ronald Reagan and others......



Thursday November 18 8:30pm
BYO8
Come on down to Vancouver's longest running open screening, and expose your retina to the good, the bad and the ugly of new and old works from near and far. We want your 16mm, Super 8 and VHS video tapes - 10 minutes max, and only $3 to get in if you're carrying!! Film is it! Film adds life! Just do it! Bring Your Own Film!!




Friday November 19 8:30pm
THE INCREDIBLY STRANGE WORLD OF FRANK MOORE
Berkeley performance artist, zine/book author, musician and filmmaker Frank Moore was diagnosed with Cerebral Palsy at birth - he has since taken this ailment and turned it on its head to create unforgettably strange, funny, awkward and frank films. While never comfortable and quite often challenging viewing, Moore's work manages to simultaneously laugh at and insight compassion for his struggles to find love, to have sex, to communicate... On the program: FAIRY TALES CAN COME TRUE - Frank Moore meets a girl and falls in love - his disability and her jock boyfriend get in the way, but fantasy life mixed with a re-evaluated self-image end in unexpected results. CHERO COLLAGE - Footage from several shamanistic performance pieces are combined to present a record of the trance states achieved by Moore's performance group CHERO COMPANY. OUT OF ISOLATION - An excerpt from this feature length dualogue between Moore and co-star Linda Sibeo - a surreal and erotic examination of an intimate relationship of need.



Saturday November 20 8:30pm
LIVING CELLULOID!!
PORTLAND's DYNAMIC DUO: MATT McCORMICK + VANESSA OLIVIA RENWICK
An evening of personal, experimental, no-budget short films by Portland artists Vanessa Renwick and Matt McCormick with artists in person! Vanessa Renwick creates films and video with an off-beat, quirky-feminist style that are simple and intelligent. Very strong but not exclusive, her works vary widely in style and subject from piece to piece, covering everything from personal expression to broader social statements. Her work has been included in the Best of the Northwest Film Festival tour, and she is currently working on a new film about wolves and crows entitled "Stretcher" Matt McCormick makes abstract pieces with found footage and hand manipulated film. Splicing, scraping, and painting the footage by hand, Matt creates new forms of texture and color from discarded film clips, and rearranges them into pseudo-narrative tone poems. Matt is also the organizer of Peripheral Produce, a screening series and distribution co-op of experimental cinema. Both artists will be in person to present their films, answer questions, and talk about the ideas surrounding non-commercial filmmaking.



Sunday November 21 8:30pm
LIVING CELLULOID!!
CASPAR STRACKE IN PERSON
German filmmaker Caspar Stracke finally arrives for his first ever show here in Vancouver. Currently living in New York City, Stracke has been creating incisive, smart and highly original work for over 10 years with over a dozen films to his credit as well as awards from the prestigious Oberhausen film festival and New York Film and Video Expo. Stracke has recently completed his rigorous and astounding experimental feature CIRCLE'S SHORT CIRCUIT. Stuctured in such a way that the film may begin with any of its five reels, tonight Stracke presents a selection from these reels including LOCKED GROOVE Version III as well as a special silent remix of a reel on 35mm entitled HOBART. Also, the premiere of READ ME (starring George and Mike Kuchar!) with AFTERBIRTH, SAD SACK, and DECONSTRUCTED EDUCATIONAL SPORT SERIES. Mr. Stracke will be in attendance to answer questions and discuss his work. (co-presented by the Western Front as part of "~scope").



Tuesday November 23, 1999 8:30pm
LIVING CELLULOID!!
MICHAEL BRYNTRUPP IN PERSON
Michael Bryntrupp has been a vital and very active part of the German underground for over 15 years, having completed numerous experimental features (including the Super 8 feature JESUS DER FILM, as well as SEPTEMBER, RAGE, A JOURNEY, and others.) and an incredibly strong body of short personal works. Working from a decidedly queer bent, Bryntrupp often integrates a personal diaristic strategy, using humour and pathos to subvert and stimulate while creating films which are both intimate and visually stunning. Don't miss this rare opportunity to meet Michael Bryntrupp and see his work! Films to be screened include: THE DEATHSTRIP, ALL YOU CAN EAT, MY SECOND VERS., CAIN AND ABEL, AIDE M…MOIRE, LOVERFILM, and NY 'NY 'n why not. (Co-sponsored by the Western Front as part of "~scope" and by Out On Screen)



Wednesday November 24 8:30pm
THE SECRET LIFE OF MR. X
Acquired through a donation to our archive and originally found at an estate sale, this series of silent 16mm films are the secret home movies of an unknown Vancouver family. Filmed by the "man" of the family in what appears to be a childless home, the films are decidedly upper class - it was a rare thing to be shooting home movies on 16mm after all, and given their content it is obvious that these people are of a privileged background. Shot on gorgeous Kodachrome and in Black and White and all in immaculate condition (likely only ever viewed once by their original owner like so many home movies), the films date from the '40s through to the '60s and feature Mr. X's travels to Europe, the World's Fair, Parisian topless vaudeville clubs, cruiseship adventures, cross-country car racing and backyard gatherings. As well as being an incredible document of a time in history, these films are also a stunning record of people, places and activities and stand as a awe-inspiring time-capsule. CAN YOU NAME THESE FOLKS? Come on down and see if you know them, we would love to find out more!



Thursday November 25 8:30pm
NEW (CINE)WORKS
Stylin' new short films from the members of Cineworks—Vancouver's only filmmakers' co-op, and a hotbed of independent filmmaking in our city for the last twenty years. Films in this program include many new works that premiered recently at the 1999 Vancouver International Film Festival, including Dylan Cree's controversial "vulgar...incomplete 'n yet whole," a complex examination of the concept of the "pornological," Caroline Coutts' "The Lonely Passion of Petar the Pig Farmer," a surreal fairy tale about a lonely pig farmer who wishes for a beautiful wife to take care of him, Julia Kwan's "10,000 Delusions," a tongue-in-cheek exploration of the possibility of finding spiritual enlightenment in the suburbs, Andrew Gravkin's "The Way of the Sword," an experimental documentary that brings together knights in armour, modern-day Samurai and the lost craft of sword-making, and Brian Johnson's "Cascadia," a dramatic film about the very undramatic life of one Brin Findlay, a corporate office drone caught in a hopelessly monotonous existence, plus many more. Special bonus: filmmakers in attendance! to find out more!


Friday & Saturday November 26/27 8:30pm
X-RAY SPECS!
A radiation-heavy series of shorts and classic clips stuck on new ways of seeing to the bone and beyond... included in this show are Ann Marie Fleming's Pioneers of X-Ray Technology, an evocative portrait of the filmmakers grandfather, a longtime and insatiable producer of images, including the introduction of the X-ray machine to the masses with terrifying results; Barbara Hammer's SANCTUS is a film of rephotographed moving x-rays originally shot by Dr. James Sibley Watson (Fall of the House of Usher, 1929) and his colleagues, portraying a body in need of protection from a polluted planet. "In Sanctus, Barbara Hammer addresses in a visually and aurally stunning fashion the co-fragility of both human existence and the film emulsion...For 19 mesmerizing minutes, between the SMPTE test film which contains the static image of a woman's face used for focus purposes at the head of the film, to the crumbling sprockets at the tail of the film, discarded x-ray images of human forms performing everyday functions are vividly given a new life." (Jon Gartenberg, Film Dept., Museum of Modern Art, NY). Jessica Joy Wise's subtle and evocative FALSE CREEK incorporates the subject of body and architecture through x-rays and infrared photography. Also, Matt McCormick's MATT'S JAW, a super-short of the filmmaker's reconstructed jaw through an X-Ray machine he secretly used while working on a commercial. PLUS: stunning clips from X: THE MAN WITH THE X-RAY EYES, and other surprises. Wear a lead chest-protector and get in FREE!


DECEMBER 1999



Tuesday & Wednesday November 30/December 1 8:30pm
RADICAL REMAKES: SHULIE + WHAT FAROCKI TAUGHT
We are very pleased to present these two smart and serious contemporary remakes of lost radical classic films from the '60s. SHULIE is Elisabeth Subrin's "cinematic doppelganger without precedent" (New York Film Festival), a resurrection of the '60s documentary portrait of then unknown Chicago art student and later author of the radical '70s feminist manifesto The Dialectic of Sex: The Case for Feminist Revolution. "A brilliant rethinking of history...Subrin turns the past into an amusement attraction for the present, strapping us playfully into our seats, and in the process gives us a glimpse of the video of the future..." B. Ruby Rich, SF Bay Guardian WHAT FAROCKI TAUGHT is a perfect replica in colour and in english of Harun Farocki's 1969 German film INEXTINGUISHABLE FIRE. "Taking as its subject the political and formal strategies of Farocki's film about the development of Napalm B by Dow Chemical during the Vietnam War, Godmilow's unabashedly perfect copy reopens Walter Benjamin's discussion of art in the age of mechanical reproduction and turns WHAT FAROCKI TAUGHT into an agit-prop challenge to the cinema verite documentary representation of information, history, politics and "real" human experience." (Video Data Bank) "A ferocious, committed, important historical/political tract for the amnesiac '90s." (Gerald Peary).



Thursday December 2 8:30pm
SUPERHERO SHORTS!
A collection of shorts obsessed with all things Superhero including four local works and a wack of classic and contemporary superhero cartoons and clips! Todd Keller & Marcus Hutchings' BLACK NYLON is a snappy and sorry Super 8 tale of a washed up superhero whose territory is being taken over by a new up-and-comer. Based on the comic strip by Daniel Clowes (Eightball)and enthusiastically recommended by the man himself! SUPERHERO is Jonathan Middleton's mock-doc featuring the whiney Brekel-Man's take on the state of Canadian superheroes today. Also, Erin Drew's lush Pixelvision piece WONDERGIRL, and PUNCH KICK FIGHT, Vern Bevis and Herb Cook's stunning colour hand-processed recreation of a classic kung-fu fight sequence. PLUS a slew of well known and obscure superhero 'toons and clips including a Super 8 Superman in "The Magnetic Telescope", MightyMouse, and more!



Friday December 3 8:30pm
SEATTLE'S EMERALD REELS SUPER 8 LOUNGE
Seattle's Emerald Reels Super-8 Lounge rolls into town for a night of super-8 films and projections backed by the exotic aural layerings of Seattle's own dj eeg. Tonight's show will feature all the best small-gauge celluloid from Seattle's exploding and extreme super-8 scene, including: Sky Cries Mary drummer - Ben Ireland, Reed O'Beirne, Hamish Chapel, Doug Lane, Rachel Lord, Ted Grudowski and Mexican Super-8 Master Ricardo Nicolayevsky. Sensual, seamless and simple - the very grass root embodiment of truly Undependent Cinema. Don't miss out on this fully outfitted Super 8 environment! www.emeraldreels.com



Saturday & Sunday December 4/5 8:30pm
STEVE REINKE'S 100 VIDEOS
In an appropriately fin-de-siecle strategy, we are pleased to present the intensely personal, playful and incisive 100 videos by Toronto artists Steve Reinke. In 1990 Reinke proposed to create 100 videos before his birthday in the year 2000. At a total length close to five hours, Reinke's series of short works is a witty, sometimes dark index of post-modern fears and desires. Openly gay, brainy yet dumb, and often irreverent, The Hundred Videos have garnered international acclaim with screenings across the globe. "These video tapes are short, witty subversions of lore passed on to us - the "knowledge" available as social history in the memory bank of our culture, preserved in the found footage of old films and television...They also serve as the documentary proof of the fictional discourses Reinke juxtaposes in his own ad-libbed voice-overs, micro-narratives pertaining to the truth value of autobiography or science. The ensuing deadpan reversal of forms inverts the naturalness of any of these discourses, whether they touch on scientific laws, social interaction, gender function or sexual identity." (Beauty magazine #2) Part One on Saturday, followed by Part 2 on Sunday! (each show approximately 2.5 hours).



Tuesday December 7 8:30pm
BIG MISS MOVIOLA'S CHAINLETTER TAPES
Olympia-based musician, performance artist and moviemaker Miranda July began the Big Miss Moviola Chainletter Tapes with a plan to spread the good gospel of lady-made movies - you send her a VHS of your film which she then compiles with other lady-made movies and sends to each moviemaker on the tape, pulling a group of like-minded ladies together and creating a package of great works to share and trade with your friends. With 7 of these compilations now out in the world and circulating, this screening features a cross-section of wondrous works culled from the chainletter tapes. Included in the show are Sativa Peterson's THE SLOW ESCAPE, a Winslow, Arizona tale of murder and deceit; Myra Paci's nightmarish TRANSELTOWN shot in the heart of Hell's Kitchen NYC; Fiona Saunders' PRINCESS AND LOIS, a home-made tale of nerdy friendship; Miranda July's own jarring THE AMATEURIST in which she plays both the panty-clad "amateur" and the voyeuristic "professional"; and THE DELTA/ELECTRONIC BALLET by The Daughters of Houdini (aka Zoey Kroll & Carolyn Cooley), two Super 8 in-camera edited stream-of-consciousness daytrip dreamworlds of accordians and ripped up roadways.



Wednesday December 8 8:30pm
SEDUCING SAILORS:
AN EVENING WITH STEVE KOKKER AND STEVE ZEELAND, TWO PEOPLE WITH EXPERIENCE
SEDUCING SAILORS is an evening on the high seas with St. Petersburg/Montreal filmmaker Steve Kokker and Seattle's Steve Zeeland, the best-selling author of four books about crossing sexual lines in the military, and both self-admitted "military chasers". Mr. Zeeland and Mr. Kokker will open the evening with a short introduction about their mutual fascination. Mr. Zeeland will read a passage from his latest book and Mr. Kokker will screen two of his video works: Happiness is Just a Thing Called Joe, a runaway hit on the Gay film festival circuit and an ode to every gay man's favorite bad boy, Joe Dellasandro. Kokker's Birch will follow, a controversial documentary study of a "straight" sailor who seems quite at ease with showing off his body for the filmmaker...but who holds the power? Also on display will be Kokker's and Zeeland's own personal photo albums of sailors and military boys. PLUS exclusive, never-before-seen scenes from Kokker's upcoming opus on male bonding in the Russian military - a once-in-a-lifetime chance to see the inside of Russian military academies and scantily clad Russian soldiers! Don't miss this one-night-only special event. (co-sponsored by Out On Screen).



Thursday December 9 8:30pm
TETSUO: THE IRON MAN
WITH EYE OF NEWT COLLECTIVE
The Eye of Newt Collective are back for their monthly installment of incredible live-accompaniment to cinema. Featuring a broad range of instrumentation, sampling and an incredible array of film-specific composition, EON will mesmerize you with their smart mix of ambient and jazz influenced soundscapes. Shinya Tsukamoto's TETSUO: IRON MAN is fueled by cyberpunk sensuality and wrought-iron perversion, beginning with the bizarre merging of flesh and metal and accelerating into a hyper-hallucinatory state where springs, wires and solder erupt fountain-like from a man's body. "A man (Tomoroh Taguchi) awakens from a nightmare in which his body is helplessly fusing with the metal objects around him, only to find it happening to him in real life... or is it? Haunted by memories of a hit and run (eerily prophetic of Cronenberg's Crash), the man knows this ordeal could be a dream, a fantastic form of divine retribution, or perhaps technological mutation born of guilt and rage. Shot in bracing black and white, Tsukamoto puts a demented conceptual twist on stop-motion effects, giving his film the surreal quality of a waking dream with a psychosexual edge (resulting in the film's most disturbing scene). (Sean Axmaker) (Note: presented in video projection)



Friday & Saturday December 10/11 8:30pm
THE DARKEST OF THE HILLSIDE THICKETS PRESENTS
THE H.P. LOVECRAFT FILM FESTIVAL
Come on down and hang your hat on the hook for two nights of H. P. Lovecraftian cinematic fare. Featured on Friday will be The Music of Erich Zann (John Strysik), A Portion of Ka (Brian Poe), The Hound (Anthony Reed), My Necronomicon (Aaron Vanek) and The Case of Howard Phillips Lovecraft (Pierre Trividic) PLUS: HPL Trailers!! On Saturday night check out From Beyond (Robert Fugger), The Outsider (Aaron Vanek), Return to Innsmouth (Aaron Vanek), Dagon (Richard Corben) and Cool Air (Bryan Moore). Check http://www.hplfilmfestival.com/ for more information and updates!

Sunday December 12 NOON to MIDNIGHT
VANCOUVER EUROCINE PRESENTS:
THE FIRST EVER KLAUS KINSKI MARATHON
Kinski - one of the most electrifying enigmas to grace the screen died almost unnoticed in 1991. He was the first to concede that many of his films were "mere shit", but his talent and unusual presence could elevate a low budget flop into something more. A master of all genres - spaghetti westerns, psycho thrillers, bloody historical epics, experimental/art, sex comedies....all these and more will be represented in this noon to midnight outing, many films never seen before in North America including his final master opus PAGANINI. ((Note: films will be screened in video projection). Call 224-3699 for further information. Full listings and day passes available soon at The Blinding Light!!, Black Dog Video and other appropriate spots! Check out http://www.internetstore.bc.ca/eurocine/kinski.html for more info!!



Tuesday & Wednesday December 14/15 8:30pm
DOUBLE SCREEN HAND-TREATED CELLULOID
with CARL BROWN's AIR CRIES, EMPTY WATER
featuring DIAMANDAS GALAS' PLAGUE MASS
Carl Brown has been aggressively hand-manipulating film footage and treating it with alchemical brews for over a decade and has collaborated with Mike Hoolboom, Michael Snow and many others. His films are mesmerizing, all-encompassing and visually decadent, as well as a true testament to the radical visual potential of the moving image. In AIR CRIES, EMPTY WATER Brown has created a two-part vivid dissection of a tormented and lost soul seeking a voice. These two parts - MISERY LOVES COMPANY and THE READ THREAD will be presented in a double split-screen presentation with the original DIAMANDA GALAS' PLAGUE MASS soundtrack. "The passion tale of a body thief, who needs no cover, and who brazenly comes and tears apart the lives of those we love. The angels which float as the sky rains upon our heads. Red, covers the sidewalks, offices, homes and the money we exchange. It could never happen to us, the umbrella shades some from the downpour." (Carl Brown) "Death like life, has its own music and in the convulsive Plague Mass of Diamanda Galas all that is holy and unholy, pure and defiled, beatific and profane, is woven together on the loom of demoniac celestial hymnody and incandescent hate. Galas's unearthly instrument - her own spectral multi-octave voice - is fueled by febrile seething hatred and brutal compassion. In her Plague Mass, Galas gives voice to an army of tortured souls, the ones who can no longer sing for themselves: the infirm, the insane, the dead who will not rest in peace." (Tim Holmes, New York City, Dec. 1990)




Thursday December 16 8:30pm
BYO8
The last BYO8 of the millenium folks (depending on how you count) - where else would YOU want to be? Bring them all down - 16mm, Super 8 and VHS - $3 to get in if you're carrying and extra loud applause for anything that doesn't have any references to the turn of the century! (First come, first serve, under ten minutes please - excerpts accepted!)





Friday, Saturday & Sunday December 17-19 8:30pm
THE COMPLETE "ADDICTION TRILOGY" BY TODD VEROW
"Todd Verow's frenetic and corrosively low-rent visions of American verities - raw sex and shredded emotion - portray glamour as a kind of drug-induced condition." (SF Bay Guardian) Here for the first time back to back, we are very pleased to present Todd Verow's ADDICTION TRILOGY. Verow first came to acclaim with his debut feature FRISK and has since directed all his energy into his trademark digital video Cassavettes-inspired films featuring seemingly casual yet fully engaged performances from indie superstars Bonnie Dickenson and Cevery Doleman, among many others. Equal parts sex, attitude and frankness, The Addiction Trilogy has been hailed as hip, wild and wicked.
Friday: LITTLE SHOTS OF HAPPINESS features Bonnie Dickenson as a sunny Edie Sedgwick look-alike who works as a telemarketer by day but transforms at night, abandoning her husband to whore it up, get drunk and rob her rich sister. "LSOH moves to its own disturbing, original rhythms." (SF Weekly)
Saturday: SHUCKING THE CURVE marks the return of Dickenson as the starry-eyed small town bank teller who moves to New York city, plummeting into a twisted mid-summer wonderland of hipster wannabes, midnight rhinestone cowboys and carrot bewigged club kids. Crazy-glued together by wild improvisation and ambient glitter, the Village Voice called STC "Wild, wicked and wacky".
Sunday: THE TROUBLE WITH PERPETUAL DEJA VU marks the final installment of the trilogy and features Devery Doleman as the gitty and sexy Danielle who avoids another dull Cape Cod winter by escaping her eccentric mother Marie and a messy marriage to real-estate salesman Vincent to party in Boston, leading to affairs and more... "A Jim Jarmusch-inspired, expressionistic look at contemporary East Coast sexual mores" (VIFF).



December 20 - January 10 CLOSED FOR A WELL DESERVED BREAK! WE'LL COME OUT OF THE BUNKER WHEN THEY TURN THE POWER BACK ON. UNTIL THEN, HAPPY HOLIDAYS AND THANKS FOR SUPPORTING NORTH AMERICA'S ONLY FULL-TIME UNDERGROUND CINEMA!!


JANUARY '00



Tuesday & Wednesday January 11/12 8:30pm
DERRICK BECKLES' TV CARNAGE
TV CARNAGE is the original west-coast TV vandalism show, melding the most pathetic and simultaneously perfect moments of daytime TV, advertising, sitcoms, 100 Huntley Street and pseudo-journalism into a feature-length non-stop barrage of the most terrifying kind of television hugging you will ever see. Beckles watched television for what looks like about a dozen straight years of his life to bring you all the stuff worth pausing at before continuing on your endless loop of channel surfing. Starting from a mad riff on "the makarenka", Beckles takes us through the best moments from late-night infomercials, junk news, and less-than-popular sitcoms that you will make you wince and grin at the same time. This stuff got VICE magazine's stamp of approval: can you take it all in one sitting? We dare you.



Thursday January 13 8:30pm
THE CABINET OF DOCTOR CALIGARI
WITH EYE OF NEWT COLLECTIVE
EON (Eye Of Newt) are back for their monthly installment of incredible live musical accompaniment to cinema. Featuring a broad range of instrumentation, sampling and an incredible array of film-specific composition, EON will mesmerize you with their smart mix of ambient and jazz influenced soundscapes. Tonight features THE CABINET OF DR. CALIGARI, the oft-imitated and astounding classic of German expressionist filmmaking. Long considered to be the first true horror movie, Dr. Caligari is the archtype mad scientist out to do evil deeds with the aide of a sleepwalker named Cesare. Cesare murders those whom the Doctor fears are too close to uncovering his evil deeds.... a film which virutally invented the standard elements of classic horror - the mad scientist, the zombie and the helpless heroine - CALIGARI features awe-inspiring sets of the most expressionist kind, incredible lighting and astounding performances from the leads. A circus of genius film and horror design not to be missed!


Friday, Saturday & Sunday January 14/15/16 8:30pm
CRAIG BALDWIN'S SPECTRES OF THE SPECTRUM
San Francisco's found footage godhead Craig Baldwin's latest film SPECTRES OF THE SPECTRUM is a no-holds-barred information-age overload exploring the vast range of elements which have overcrowded the spectrum - everything from Tesla/Edison electricity battles to the current hype of the computer/internet explosion and beyond are explored using an insanely rapid-fire editing montage of sound and image - most from Baldwin's massive collection of industrial films - all smartly built into a time-travelling narrative. "Nothing less than an alternative history of our century, in which evil empires of technological masters are excoriated and ridiculed, and the technological dream world of the "information age" is flipped over like a damp rock." (VIFF)


Tuesday & Wednesday January 18/19 8:30pm
CRAIG BADWIN'S SONIC OUTLAWS
Craig Baldwin's inspired SONIC OUTLAWS explores issues of copyright infringement, "fair use" and culture jamming, blowing the top off documentary structure and featuring a broad range of interviews and visits with the leading edge of artists and musicians working against the imposed limitations of current copyright laws and "intellectual property". Featuring more formats than you can shake a stick at including video, pixelvision and 16mm original and found footage, Baldwin shoots interviews and samples snippets of works by John "Plunderphonics" Oswald, Emergency Broadcast System, and even harkens back to the Dadaists and the Situationists. The film centers around the trials and tribulations of NEGATIVLAND, the SF-based sound collage group best known for their battle against U2's record company. A legal battle prompted by the release of their own album entitled U2 which featured heavily sampled elements of the Irish group's songs as well as Casey Kasem furiously cursing, Negativland's case is the perfect cornerstone for a smart and speedy study of the artistic, political and legal concerns that stem from visual and aural collage. An essential addition to the Baldwin oeuvre as it taps into the cultural production so essential and inherent in his own work.



Thursday January 20 8:30pm
BYO8: 3rd DEGREE MEDIA BURN
Deep in the centre of two weeks devoted to media mayhem sits this edition of BYO8, your opportunity to bring down the best found footage/TV-snatched/moving image ephemera you can get your hands on! We can show 16mm, Super 8 and VHS - 10 minutes max please (excerpts accepted). only $3 if you're carrying!





Friday, Saturday & Sunday January 21/22/23 8:30pm
HAROLD BOIHEM's
THE AD AND THE EGO (with sound by Negativland)
+ NEGATIVLAND VIDEOS!
"The Ad and the Ego is the first comprehensive documentary on the cultural impact of advertising in America," says Neil Postman, NYU author of AMUSING OURSELVES TO DEATH. "It should be required viewing for every consumer - which means all of us."
Harold Boihem's stunning THE AD AND THE EGO traces advertising's development from its largely descriptive 19th century origins through today's ads which eschew rational arguments for symbols and imagery playing directly to our emotions. Artfully intercutting clips from hundreds of familiar television ads with insights from Stuart Ewen, Jean Kilbourne, Richard Pollay, Sut Jhally, Bernard McGrane and other noted critics, the film performs a cultural psychoanalysis of late 20th century America and its principal inhabitants: Consumer Man and Woman. Making the critical connections between the rise of consumerism, environmental degradation and our blind commitment to economic growth at any cost, THE AD AND THE EGO "brilliantly dismantles one of the ego's most comforting self-flatteries: that we are immune to advertising. Consider this your first real inoculation." (Leslie Savan, Village Voice Critic and Author, The Sponsored Life)
PLUS: NEGATIVLAND videos including the posthumous U2 video for the now-illegal U2 single and other brand new tasty delights you will never see on Much!



Tuesday January 25 8:30pm
BRIAN SPRINGER'S SPIN
+ MARK TWAIN COMPANY
Pirated TV, exposed media personalities and spin doctors are revealed in this secret camera revelation of bad politics and rotten talk shows. Director Brian Springer spent two years with a satellite dish and a VCR lifting TV outtakes appropriated from network satellite feeds to create this incisive and aggressive documentary revealing the tightly spun fabric of television which silences public debate and furthers intolerance of anyone outside the pack of journalists, politicians, spin doctors and televangelists who manufacture the news. SPIN moves through the L.A. rebellion and the floating TV talk-show called the 1992 presidential election creating "a devastating critique of television's profound manipulativeness in the way it packages the news and politics." (Steven Holden).
ALSO: Adam Goldman's THE MARK TWAIN COMPANY, a deadpan study of the enterprises - both wildly corporate and harmlessly small-town - which feed off the work, life, and myth of Mark Twain (aka Samuel L. Clemens). A canny critical treatise on relations between artists, estates, heirs, intellectual property, and public memory....crucial insight into how artistic intentions are unexpectedly transformed by historical forces. (Craig Baldwin)



Wednesday January 26 8:30pm
CHRIS WILCHA'S THE TARGET SHOOTS FIRST
+ SVEN VOLZ SHORTS
After graduating from college and getting nowhere with his band, Chris Wilcha landed a job at Columbia House Records, the mail-order freebee rip-off company (which, we discover, is yet another subsidiary of the Sony/Time-Warner multinational) where he proceeds to familiarize himself with the extreme blandness of the rat-race, all the while videotaping the proceedings. Eventually he gets embroiled in the creation of a new alternative wing, with disturbing results... Watch for cameos by Aerosmith and Baywatch's own David Hasselhoff as Chris maneuvers his way through the strange and surreal world of big-business... "A cautionary account of the personal psychological cost of commitment to the recording industry: Chris Wilcha's The Target Shoots First is a riveting hidden-camera diary of his stint with the Columbia Record House mail-order machine - a clueless corporate hell-tower that tapped the ex-punk's sub-cult savvy in order to market... Grunge Rock! Finally SEE and HEAR the sleazy yuppie opportunists who shamelessly capitalize and commodify so-called youth culture." (Craig Baldwin, Other Cinema) PLUS: German filmmaker Sven Volz' short subjects, playing off media and film credits in the most ingenious ways, these two shorts take corporate cliches and turn them inside out!


Thursday January 27 8:30pm
CINEWORKS PRESENTs
PRAIRIE TALES
curated by BILL EVANS
Your chance to see what some of the best and brightest of Alberta's film and video-makers are up to, in this all-Alberta Film and Video Tour, sponsored by Metro Cinema, a non-profit Edmonton-based film society. Curator Bill Evans chose works for this program (subtitled "Fictional Realities) which in one way or another were inspired by a sense of place, especially in relation to the landscape of Alberta, as well as by factors such as race, ethnicity and cultural difference. Films and videos include "The Three Brothers," by Alan Watamaniuk and Tom Bernier, a stop motion animated film based on an Inuit legend, in Inuktitut with English subtitles, "BBQ Muslims," by Zarqa Nawaz, a comical look at life in the suburbs, dealing with issues of cultural stereotyping, "Re-education Thru Labor," by Alex Viszmeg, a portrait of religious experience through the eyes of former Alberta premier William Aberhart and Polish Pioneers, and "Game Seven," by Ando Leuchter, about an average Canadian kid totally obsessed with hockey. Plus many more!


Friday through Wednesday January 28 - February 2 8:30pm (no show monday)
KEVIN DINOVIS'
SURRENDER DOROTHY
Grand Jury Prize Winner for BEST DRAMATIC FEATURE at SLAMDANCE '98 and the talk of the '98 Vancouver Film Festival, SURRENDER DOROTHY is Kevin DiNovis' surreal and disturbing metaphor for power structures in relationships featuring the director himself in the truly daring role of Lanh, a desperate and homeless junkie who falls back on his friend Trevor for a place to sleep and gets in deeper than he ever imagined possible. In what becomes a more and more frightening cycle of abuse, Trevor begins to control Lanh's heroine supply by forcing him to dress in drag and become his girlfriend/slave "Dorothy". With incredibly strong performances by DiNovis and Peter Pryor, "this edgy, gender-bending tale creeps up on you, suddenly leaving you trapped in a world of dysfunction." (VIFF) "Startling, gripping, disturbing, and out on the film making edge. Part dark comedy and part Lynch-inspired melodrama...an assault on political correctness and middle class values (and) undeniably powerful." James Berardinelli (Reel Views)
(top)