'Exhausted and infuriated'
Toronto's Lola Magazine and Vancouver's Blinding Light Cinema were two of Canada's richest cultural voices. Their demise says a lot about cultural burnout

By Hal Niedzviecki
Wednesday, August 13, 2003

Canada lost two of its most vibrant, accessible and independent cultural voices this summer. But the closures didn't come about as a result of the usual mix of poor organization, declining audience interest and dwindling financial resources. Toronto's Lola Magazine and Vancouver's Blinding Light Cinema were expertly run, enjoyed the support of their communities, and showed stable or even growing revenue. They could have gone on indefinitely.

So what killed Canada's most inviting art magazine and interesting cinema? Burnout.

Principal founders hit the wall following years of pouring staggering amounts of energy into cultural projects that offered poverty-level financial returns.

"We got exhausted and infuriated," says Lola art director Sally McKay. "Any one factor would not be enough to close down the magazine, but if you add it all together . . ."

"I began the Blinding Light as a way to get the work I was excited about out there," says founder and manager Alex MacKenzie, "but . . . the theatre was something that never ever left my mind, like a baby that needs constant attention."

Lola was founded in 1997 and overseen for the bulk of its seven-year run by editor Catherine Osborne and McKay. The magazine attracted immediate notice when it first appeared. It was free, and covered the burgeoning small-gallery visual-arts scene of Toronto with breezy accessibility. What's more, Lola invited its readers to become contributors, soliciting "shotgun" reviews of exhibitions, art happenings and general cultural weirdness.

But success came with a price. Seven years in, and the editors, working full-time, were earning less than a cashier would at Wal-Mart. McKay notes that during the times the magazine was in production, she was putting in upward of 100 hours a week. "There was no regular salary," she says. "None of us were ever adequately compensated for the work." Even with a move to paid circulation that attracted grants from the federal government and the Canada Council for the Arts (which recently doubled its Lola grant to $29,000), the magazine couldn't sustain its staff of four.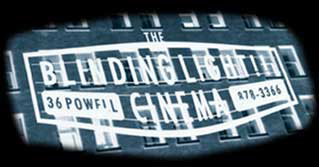 Similarly, Blinding Light received operating grants, ran a café, and kept a steady flow of customers coming through its doors. Its innovations included regular and popular bring-your-own-film nights, the annual Vancouver Underground Film Festival, its own in-house 'zine, and a nightly schedule featuring films rarely shown in theatres. When it closed its doors after five years, it was North America's only full-time underground cinema.

Despite its success, MacKenzie describes the endeavour as "a giant hobby, really." He was, he notes, "never salaried." The cinema "received funding, but never nearly enough to support the theatre, our full-time programming and even one salary. The café staff was paid, but that came out of café earnings, which was a break-even deal. I made my living by having an inexpensive lifestyle, doing freelance graphic design, freelance curating and receiving occasional festival fees for the screening of my work."

Their jobs were all-consuming and poorly paid. And yet neither McKay or MacKenzie seems bitter over investing so much into their respective projects. "The flipside of creative burnout," says McKay, "is that you are also engaged and stimulated . . . the work gives back to you."

MacKenzie agrees that there were definite upsides. "Any project of this magnitude can burn you out some days, but you wouldn't be doing it if it burned you out all days." Via e-mail, he explains that he had always had a five-year time span in mind. All the same time, he acknowledges that that cap was not absolute: The cinema might have continued had he been able to work on his own films and keep the Blinding Light in business. "The idea was that if I could figure a way to do both in that period, I would keep it rolling (assuming I was still into it), otherwise, I would switch gears and focus on my own stuff more."

Certainly burnout is not just about money. It also has to do with the distraction of being constantly attuned to art-world happenings that most of us never notice. "Caring about all of the arcane and weird cultural artifacts that no one else cares about is an exhausting proposition," says Darren Wershler-Henry, who worked as senior editor at Coach House Books for five years until earlier this year. "Everybody needs to recharge their batteries from time to time."

Such recharging often comes in the form of a return to more personal, contemplative work. And, many argue, it can be a positive sign of change. Regular Lola contributor R. M. Vaughan says that burnout "is healthy -- because the alternative is people staying in their situations forever and ever and ever and subsequently becoming really tired and boring. One of the ways to recognize a clever culture-maker is that they know when to stop."

Clever culture-makers MacKenzie and McKay are returning to their primary interests: filmmaking and visual arts, respectively. And neither believes that there is much of a chance their all-encompassing side projects will be resurrected. As McKay puts it: Lola is "not an intuitively automatically lucrative business, so it has to be someone who has a particular interest in doing this kind of crazy work."

The difficulty of passing the baton is almost as worrisome as the speed of burnout itself. After four or five years, many organizers are only beginning to master the tricks of the trade. And yet their exhaustion leaves them with little will or opportunity to mentor successors or cultivate an exit plan that will ensure their groundbreaking projects continue. What's more, as Wershler-Henry puts it: "People who try to sell out discover pretty quickly that there's no point, because no one's buying."

Still, for the legions of fans who are already now pining away for their indie movie screenings and pithy art-scene commentary, all is not lost. MacKenzie promises that "curating, programming and putting on shows will continue for me." McKay also may have plans to return to publishing sometime in the future. "I'm afraid," she says, "I may be slightly addicted to it."

Hal Niedzviecki recently stepped down as editor of Broken Pencil, the magazine of 'zine culture and the independent arts. He held the position for seven years.